Order of Howard Fast Books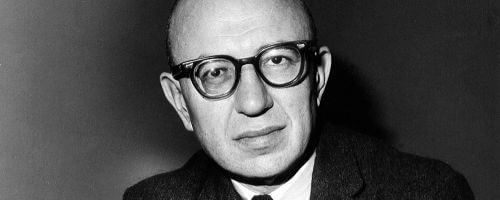 Howard Fast (1914-2003) was an American author of fiction, non-fiction, poetry and screenplays. He grew up the son of immigrants in New York City, and published his first novel after high school. Howard was sent to prison after he failed to provide U.S. Congress with a list of potential Communist associates. It was behind bars that he would write one of his most popular novels, Spartacus. His writing mixed his commitment to social justice with his style of storytelling that was both deft and lively. He also wrote as E.V. Cunningham and Walter Ericson.
Howard Fast made his debut as a published author in 1933 with the standalone novel Two Valleys. Below is a list of Howard Fast's books in order of when they were originally released:
Publication Order of The Crossing Books
Publication Order of Lavette Family Books
Publication Order of Masao Masuto Books
Publication Order of Standalone Novels
Publication Order of Short Stories/Novellas
Publication Order of Short Story Collections
Publication Order of Plays
Publication Order of Non-Fiction Books
Notes: Fallen Angel, originally written as Walter Ericson, was also published under the title of Mirage. Tony and the Wonderful Door is also known as The Magic Door. The Picture Book History of the Jews was written with Bette Fast.
If You Like Howard Fast Books, You'll Love…
Howard Fast Synopsis: The Children by Howard Fast is about four children of immigrants grow up together in the back alleys of New York City's tenements, under the looming shadow of racism. Ishky is Jewish, Marie and Shomake are Irish, and Ollie is Italian. Each is confronted daily by the prejudice that rules in one of the world's greatest cities: New York City. Living in slums, they must rely on each other to overcome hunger, disease, violence, and the bigotry of those who arrived before them. Fighting for a better life against the tide of poverty, the children must overcome their own city's barbarism, or be consumed by it.
Clarkton is a standalone title by Howard Fast. It is 1945, and soldiers have returned home from Europe and the Pacific to take up their former lives. But in Clarkton, a small Massachusetts factory town, a high-stakes labor battle quickly turns violent, turning what should be a time of peace and prosperity into a bloody conflict that draws in every citizen. No one remains untouched, from rigid factory owner George Clark Lowell, to a small army of labor organizers of every background, to reptilian strike-buster Hamilton Gelb, to the shopkeepers, barbers, and priests that watch in confusion and horror as the nightmare unfolds.
Order of Books » Authors » Order of Howard Fast Books