Order of Howard Linskey Books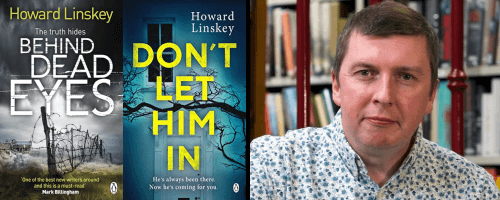 Howard Linskey is an author out of the United Kingdom known for writing books crime fiction and historical fiction. He is also the author of the David Blake series and the DC Ian Bradshaw series of books. The Ian Bradshaw series also features journalists Helen Norton and Tom Carney.
The David Blake books have since been optioned for television by producer David Barron. The historical novels that Linskey has written include Hunting the Hangman and Ungentlemanly Warfare. Howard has also written thrillers such as Don't Let Him In and The Inheritance.
Publication Order of David Blake Books
Publication Order of DC Ian Bradshaw Books
Publication Order of Standalone Novels
Publication Order of Non-Fiction Books
Publication Order of Anthologies
If You Like Howard Linskey Books, You'll Love…
Hunting the Hangman takes place in 1941 as the Third Reich is at its most powerful. Reinhard Heydrich is the most merciless among Hitler's inner circle and his command has lead to thousands of lives lost. His plan for the Final Solution, but there are those who are resistant. Josef Gabcik and Jan Kubis are dedicated soldiers who are given the mission to parachute into the occupied city, rally the rebels, and assassinate Heydrich. The odds are against them and they are far outmanned, but the men are left with no choice but to succeed as the fate of the world is in their hands.
The Inheritance begins as Sarah's Aunt Evelyn passes away. In her will she leaves Sarah a big fortune, but it comes with a condition. Sarah must return to the old man house known as Cragsmoor where one of Evelyn's friends went missing years ago. The will states that Sarah must find out the truth about what happened to this friend. If she is able to do so, she will get the house and the money. The task is hard enough, but it is made much harder as there is someone who wants the secrets to stay hidden and is willing to kill to keep it that way.
Order of Books » Authors » Order of Howard Linskey Books