Order of Jacqueline Winspear Books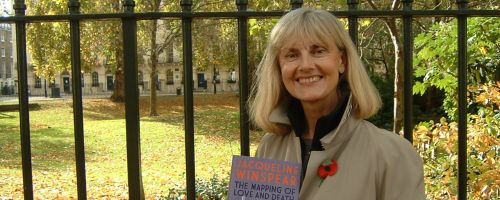 Jacqueline Winspear is an English novelist who writes a mystery series of novels featuring the character Maisie Dobbs. Winspear has been nominated for several Agatha Awards for her Maisie Dobbs books and has won two of them. Winspear now resides in the United States.
Jacqueline Winspear's first novel was entitled Maisie Dobbs and was released in 2003. It won the Agatha Award for Best First Novel. Below is a list of Jacqueline Winspear's books in order of when they were originally released (and in chronological order):
Publication Order of Maisie Dobbs Books
Publication Order of Maisie Dobbs Non-Fiction Books
Publication Order of Standalone Novels
Publication Order of Mysterious Profiles Books
Publication Order of Memoirs
Publication Order of Anthologies
If You Like Jacqueline Winspear Books, You'll Love…
Jacqueline Winspear Synopses: The Care and Management of Lies by Jacqueline Winspear is a standalone novel. Kezia Marchant's friendship with Thea Brissenden, whom she had known since she was a young girl, had become strained by July 1914 due to Thea's fervent support for women's suffrage and Kezia's impending marriage to Thea's brother Tom, who ran the family farm. A book on household management is Thea's present to Kezia when she weds Tom a month before Britain and Germany declare war, veiled criticism of the bride's bleak future. The farm, on the other hand, becomes Kezia's responsibility when Tom signs up to fight for his country and Thea is reluctantly called to the front lines. Each must devise a strategy for enduring the subsequent chaos and catastrophe.
They conceal their despair in letters and cards filled with stories crafted to provide comfort as Tom marches to the front lines and Kezia fights to keep her organized life from unraveling. Even Tom's fellow soldiers in the trenches enter the fictitious world of Kezia's mouthwatering meals and find solace there. But when confronted with the adversary, will well-intentioned lies and self-deception be useful?
The White Lady is a standalone title by Jacqueline Winspear. Elinor, a reluctant ex-spy with her own demons, confronts one of London's most dangerous organized crime gangs and ultimately exposes corruption at the highest levels of government from Scotland Yard.
Elinor, or "Miss White," is a quiet, private woman who lives in a village in Kent, England, and is a mystery to her neighbors. Elinor holds a "grace and favor" property, a rare privilege granted to loyal Crown servants in recognition of their contributions to the nation. However, there is no way for the people of Shacklehurst to find out how dangerous Elinor's work in the war had been or that their enigmatic neighbor is haunted by her past.
Jim Mackie and his wife Rose, Susie, a young farmworker's daughter, will have to break through Miss White's cold demeanor, but Jim and Elinor have something in common. He also wants to get out of his past badly. Elinor takes on the responsibility of protecting her neighbors, particularly the bright-eyed Susie, when the powerful Mackie crime family demands the return of their prodigal son for a crucial job. Elinor, on the other hand, unknowingly embarks on a perilous path in her quest to learn the truth about the family's pursuit of Jim. However, this path ultimately leads to her freedom.
Order of Books » Authors » Order of Jacqueline Winspear Books
10 Responses to "Order of Jacqueline Winspear Books"