Order of James Alan Gardner Books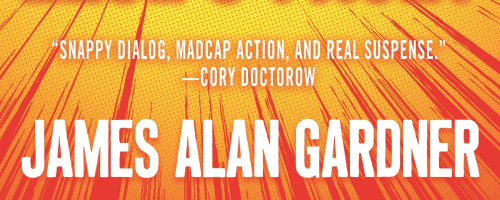 James Alan Gardner is an author of science fiction and fantasy books. He is the author of the League of Peoples book series.
On top of his writing, James is also an editor of books. He also teaches science fiction and fantasy to those who wish to learn. In addition to their work as a writer, James is also interested in math and geology. Gardner also teaches kung fu to children.
Publication Order of Dark/Spark Books
Publication Order of League of Peoples Books
Publication Order of Short Stories/Novellas
Publication Order of Collections
Publication Order of Lara Croft: Tomb Raider Books
Publication Order of Anthologies
If You Like James Alan Gardner Books, You'll Love…
All Those Explosions Were Someone Else's Fault exists in a world where monsters and heroes are real. Sparks are the heroes who have super powers that only really make sense if you don't think about them too hard. They go against the Darklings, creatures of myth and magic like vampires and ghosts. Kim Lam is just an ordinary college student who sees her life change when a freak accident turns her and her three housemates into Sparks. Now, they are in the war between Light and Dark. However, the accident turns out to be no accident as it was part of the Mad Genius's plan. The four newbie heroes will need to save the day before he finishes that plan.
The League of Peoples series begins with Expendable. Festina Ramos is given the assignment to escort an unstable admirable to the planet of Melaquin. Not much is known about the planet because all of the explorers who have traveled there have disappeared. It is the planet of no return and the High Council has begun sending admirals there that they want to get rid of. The mission appears to be Ramos' last as well as she is considered expendable, but she has no plans on dying and will do what it takes to stay alive.
Order of Books » Authors »