Order of Jasmine Mas Books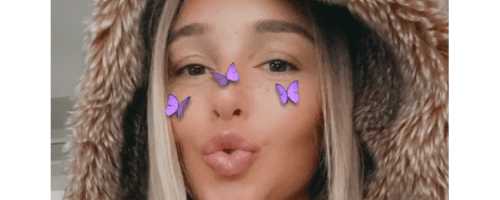 Jasmine Mas is an American author of paranormal and fantasy romance novels. She writes the Cruel Shifterverse series. Jasmine is passionate about crafting stories featuring Alphaholes and strong female protagonists. Jasmine attended Georgetown University and earned a law degree. When she's not writing or reading, she enjoys spending time with her family. Jasmine lives with her husband and cat.
Jasmine Mas made her debut as a novelist in 2022 with Psycho Shifters. Below is a list of Jasmine Mas' books in order of when they were first released:
Publication Order of Cruel Shifterverse Books
| | | |
| --- | --- | --- |
| Psycho Shifters | (2022) | |
| Psycho Fae | (2022) | |
| Psycho Beasts | (2022) | |
| Psycho Academy | (2023) | |
| Psycho Devils | (2023) | |
If You Like Jasmine Mas Books, You'll Love…
Jasmine Mas Reviews: Psycho Shifters just sucked me in from the beginning and didn't let go. Although it had been on my TBR list for a while, the blurb didn't really catch my attention. But boy, was I wrong! Sadie is an amazing character, strong and funny, with great barbs and antics. She's so underestimated, and her inner dialogue showed her vulnerable side. Despite talking down about herself, she never gave up and always pushed through the pain.
Then there are the men. We don't get much insight into their minds, as they don't have many POV chapters, but we get enough to know their obsession with Sadie. Jax is the strong alpha with a calm and steady demeanor, even though he gets growly for Sadie. Cobra, on the other hand, is damaged and has a void in him that always tries to swallow him whole. He's obsessed with Sadie but chooses to antagonize and rile her up instead. And last but not least, there's Ascher, the hot-headed alpha who taunts Sadie and calls her princess.
I was swept up in the whirlwind of Sadie thinking she's a null shifter and suddenly becoming the first female alpha. There's so much action and storyline in this book that I never wanted to put it down. And the cliffhanger at the end just left me wanting more! I can't wait to see what happens next in this amazing story. -Anonymous
Psycho Fae by Jasmine Mae was fantastic! I can see that this series might not be for everyone, but I must confess that I find it incredibly addictive. Sadie, the protagonist, is a riot, and her internal monologues never fail to make me laugh. I only wish that there were more romantic entanglements – I'm all for a slow burn, but I crave more interactions with the other characters. Despite this, the book is very captivating, with an intriguing plot that combines elements of violence, romance (sort of), and heartwarming platonic friendships. I am eagerly anticipating the next installment in the series! -Lillian
Psycho Beasts gets 3.5 stars from me. I enjoyed the first two books and even pre-ordered the third, which is not something I do often. The main characters, especially Sadie and Aran, are hilarious, and I rarely find that in female protagonists.
However, I must say that in this book, the focus on sex was a bit excessive. While there were some steamy scenes in the first two books, this one went overboard. We even got an entire chapter dedicated to one sex scene from Sadie's point of view, followed by another chapter dedicated to the same scene from another character's perspective. It felt like a waste of writing space that could have been better utilized for character or plot development.
Despite this, I can still give it some stars because the humor was still present, although there was less of it compared to the previous books. For the fourth book, I hope to see more of what made the first two books great, and less of what was overdone in the third. -Jo
Order of Books » Authors »