Order of Jeneva Rose Books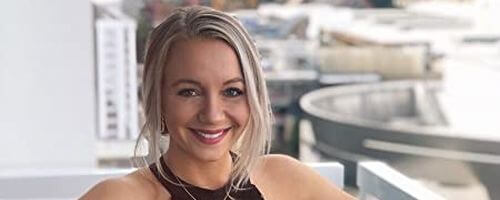 Jeneva Rose is an author of psychological thriller, suspense, and women's fiction novels. Jeneva is originally from Wisconsin, but now resides in Chicago, Illinois with her husband and English bulldog.
Jeneva Rose made her debut as a novelist with the psychological thriller The Perfect Murder in 2020. It has been optioned for film and translated into several languages. Her next book was the women's fiction novel The Girl I Was in 2021, and then she moved over to suspense with 2022's One of Us is Dead. Below is a list of Jeneva Rose's books in order of when they were originally published:
Publication Order of Standalone Novels
| | | |
| --- | --- | --- |
| The Perfect Marriage | (2020) | |
| The Girl I Was | (2021) | |
| One of Us is Dead | (2022) | |
| You Shouldn't Have Come Here | (2023) | |
If You Like Jeneva Rose Books, You'll Love…
Jeneva Rose Synopses: The Perfect Marriage is a standalone title by Jeneva Rose, which is the author's debut title. Sarah Morgan is a successful and powerful defense attorney in Washington D.C. At 33 years old, she is a named partner at her firm and life is going exactly how she planned.
The same cannot be said for her husband, Adam. He is a struggling writer who hasn't had much success professionally. He begins to tire of his relationship with Sarah due to her work schedule.
Adam begins an affair with Kelly Summers, which he's able to conduct in their secluded second home. Then, one morning everything changes. Adam is arrested for Kelly's murder. She had been found stabbed to death in Adam and Sarah's second home.
Sarah ends up defending her own husband, a man accused of murdering his mistress. But is he guilty or is he innocent?
In The Girl I Was by Jeneva Rose, Alexis Spencer is never too far away from another inspirational quote to rationalize her failures and ignore all her problems. Her boyfriend breaks it off, she's lost her job, she has no more close friends, and her college debt is still sky-high. In typical fashion, she blames the world for her problems, including her 18-year-old self who should have just tried harder and put their life on a better track. After feeling sorry for herself, Alexis goes on a bender to forget her problems and ends up blacking out. Only this time, she doesn't wake up at home, she isn't even in the right city, in fact, she isn't even in the right year.
Alexis is back in her college town in the year 2002 and thinks she's been given a do-over – that is until she comes face to face with her 18-year-old unruly self, who goes by the name of Lexi because it's "sexier." Getting used to life in the early 2000s is the easy part. Dealing with Lexi is much more difficult. First, Alexis must convince her that she is in fact from the future. Then, she has to talk Lexi into letting her live in her dorm room. Finally, they must learn to get along and come to terms with the fact that alone, they will never make things right, but together, they could change their life for the better.
Order of Books » Authors » Order of Jeneva Rose Books