Order of Jessica Ellicott Books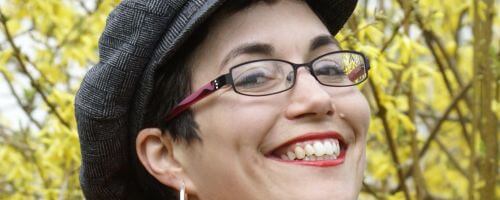 Jessica Ellicott is an author of historical/cozy mystery novels. She writes the Beryl and Edwin Mysteries series, which brings together her loves of historical fiction and Britishness. When she's not writing, she enjoys knitting socks and throwing parties. She also loves fountain pens and Mini Coopers. Jessica wrote the Change of Fortune Mysteries series as Jessica Estevao, and also writes contemporary mysteries as Jessie Crockett. She lives in New England with her husband, children, and poodle.
Jessica Ellicott made her debut using this pen name in 2017 with the novel Murder in an English Village. Below is a list of Jessica Ellicott's books in order of when they were first released:
Publication Order of Beryl and Edwina Mystery Books
| | | |
| --- | --- | --- |
| Murder in an English Village | (2017) | |
| Murder Flies the Coop | (2019) | |
| Murder Cuts the Mustard | (2019) | |
| Murder Comes to Call | (2020) | |
| Murder in an English Glade | (2021) | |
| Murder Through the English Post | (2022) | |
Publication Order of WPC Billie Harkness Mystery Books
If You Like Jessica Ellicott Books, You'll Love…
Murder in an English Village by Jessica Ellicott is the first book in the Beryl & Edwina Mysteries series. It's 1920, and legendary American adventuress Beryl Helliwell never fails to surprise the public. The last thing anyone would expect is that she wants some peace and quiet. The small hamlet of Walmsley Parva in the English countryside seems just the ticket. And, honestly, until Prohibition gets repealed back home, Beryl has no intention of heading all the way back across the Atlantic to drink bathtub gin.
For more than three decades, Edwina Davenport has lived comfortably in Walmsley Parva, but the post–World War I bust has left her in dire financial straits and forced her to look for a lodger. When her long-lost school chum Beryl arrives on her doorstep – actually crashes into it in her red motorcar – Edwina welcomes her old friend as her new roommate.
But her idyllic hometown has a hidden sinister side, and when the two friends are drawn in, they decide to set up shop as private inquiry agents, helping Edwina to make ends meet and satisfying Beryl's need for adventure. Now this odd couple will need to team up to catch a killer – before this sleepy English village becomes their final resting place…
Murder Flies the Coop is the second book in the Beryl & Edwina series by Jessica Ellicott. Sharing lodging in the sleepy English village of Walmsley Parva has certainly helped the finances of the two old friends, but money is still tight in these lean years following the Great War. So when the local vicar – and pigeon-racing club president – approaches them with a private inquiry opportunity, the ladies are quick to accept. The club's treasurer has vanished with the club's funds and several prized birds.
Beryl and Edwina hope to flush out the missing man by checking his boarding house and the coal mine he works at. But when they visit the man's loft, they find their elusive quarry lying in white feathers and a pool of crimson blood – the only witnesses being the birds. Beryl and Edwina aren't shy about ruffling some feathers as they dig through their list of suspects, but they had better find the killer before it's too late and their new venture comes to an abbreviated end…
Order of Books » Authors » Order of Jessica Ellicott Books