Order of Jill Santopolo Books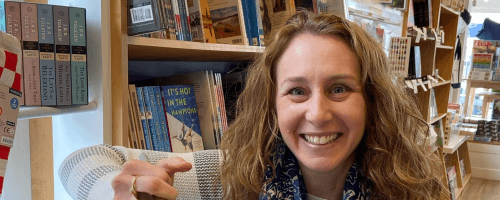 Jill Santopolo is an American author of women's fiction and romance novels and children's books. She is a New York Times and USA Today bestselling author. Jill has a BA in English Literature from Columbia University, an MFA in Writing for Children from the Vermont College of Fine Arts, and a certificate in Intellectual Property Law from NYU. She has worked as a thesis advisor at The New School in their MFA program in Writing for Children and Young Adults and was on the faculty of the Columbia Publishing Course. Jill has also traveled extensively to speak about writing and storytelling throughout the US, Canada, and Europe. In addition to her career as an author, Jill is also the publisher of Philomel, an imprint of Penguin Young Readers Group, where she edits critically-acclaimed, award-winning, and bestselling books. Jill lives in Washington, DC and New York with her husband and daughter.
Jill Santopolo made her debut as an author in 2008 with Nina, the Pinta, and the Vanishing Treasure. Below is a list of Jill Santopolo's books in order of when they were originally released:
Publication Order of Alec Flint, Super Sleuth Books
Publication Order of Sparkle Spa Books
Publication Order of Follow Your Heart Books
Publication Order of Standalone Novels
Publication Order of Anthologies
If You Like Jill Santopolo Books, You'll Love…
Jill Santopolo Synopses: The Light We Lost by Jill Santopolo is a standalone novel. As Lucy and Gabe face the realities of their separate lives, they both struggle to move on from the love they shared. Lucy throws herself into her work as a television producer, while Gabe travels the world as a photojournalist, documenting the human cost of war and disaster.
Despite their distance, they can't forget each other, and their paths continue to cross over the years. They reunite in New York City, where they must confront the unresolved feelings between them. But as they try to navigate a relationship in a world that has changed so much since they first met, they realize that fate alone may not be enough to keep them together.
Told in alternating perspectives, Lucy and Gabe's love story spans the globe, from the streets of New York to the beaches of Chile, from the skyscrapers of Hong Kong to the mountains of Afghanistan. It is a story of two people trying to find their way back to each other, and the choices they must make to do so.
More Than Words by Jill Santopolo is a story about Nina, a woman who has always followed the path set by her father and has never questioned the values instilled in her. But after her father's death, she discovers a shocking secret that challenges everything she's ever believed in. As she grapples with this revelation, she begins to see the men in her life in a different light, including her boyfriend Tim and her boss Rafael. Nina is torn between the world she's always known and the passion she feels for someone she never expected. She must decide whether to continue living the life she's been taught to lead or to take a risk and follow her heart.
Stars in an Italian Sky is a standalone title by Jill Santopolo. In 1946 Genoa, Italy, Vincenzo and Giovanna fall deeply in love at the age of twenty-one, despite their vastly different backgrounds. Vincenzo, the son of a count, and Giovanna, the daughter of a tailor, quickly become inseparable as they explore each other's minds and bodies, as well as the beautiful city they call home and Vincenzo's family's sprawling vineyard, Villa Della Rosa. However, political power shifts force them to choose opposing sides, and what each sees as a betrayal shatters their bright future together.
In 2017 New York, Cassandra and Luca are deeply in love, even though their families don't quite fit together. Despite this, they feel like a perfect match. But when Luca, an artist, convinces his grandfather and Cass's grandmother to pose for a painting, the past and present collide, revealing a secret that changes everything.
Order of Books » Authors »