Order of K.D. Edwards Books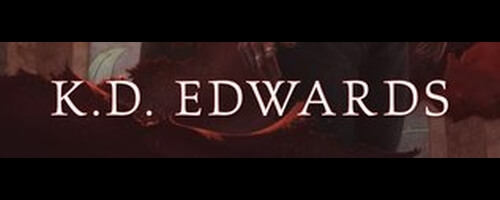 K.D. Edwards is an American author who burst onto the scene with the Tarot Sequence series. The first book in the series is The Last Sun which was released in 2018 and then followed up in 2019 with The Hanged Man.
Edwards is from the cold Northeast, but now makes his home in North Carolina after living all across the countries. Edwards has had a variety of jobs in his life including working in food service, interactive television, corporate banking, retail management, and bariatric furniture before finding his niche in higher education at the University of North Carolina.
Publication Order of The Tarot Sequence Books
If You Like K.D. Edwards Books, You'll Love…
The Last Sun is Edwards' debut and the series starter. The story begins with the last member of a murdered House searches from a missing nobleman as he sets to uncover clubs about his own past. Rune Saint John is the last child of the fallen Sun Court and gets a job searching fro Lady Judgement's missing son. He heads to New Atlantis, an island city where the Atlanteans now live after humans destroyed their home. Rune and his companion, Brand, investigate the case and uncover much more than a missing man. They find a legendary creature connected to the secret of the massacre of Rune's Court.
The series continues with The Hanged Man that sees Rune return as he is backed into a fight of high court magic and political appetites to protect his ward from a forced marital alliance with the Hanged Man. Rune and his resistance to this alliance will take him to some of the darkest corners of the island of New Atlantis including the red light district, a skyscraper farm, and the floor of the Convocation. It is at this last place where a gathering of Arcana will change Rune's life forever.
Order of Books » Authors » Order of K.D. Edwards Books