Order of K.M. Dudley Books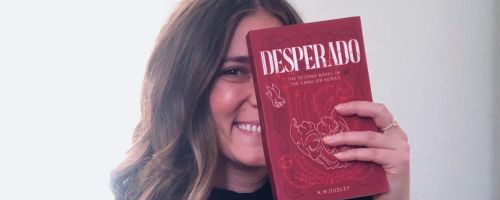 K.M. Dudley is an American author best known for writing Cavalier, the first in the series of the same name.
Dudley was born and raised in the midwest where she attended the University Wisconsin-Whitewater. At the university she studied science and received undergraduate degrees in both ACS chemistry and inorganic chemistry. However, writing was never far from her and after a decade of trial and error with writing, she finally put pen to paper and finished writing Cavalier. Dudley makes her home in the San Francisco Bay where she lives with her companion, a miniature Australian shepherd named Maverick.
Publication Order of Cavalier Books
If You Like K.M. Dudley Books, You'll Love…
Cavalier is the first book in the series of the same name. The book follows a man named Harrison Bishop who grew to great fame after his discovery of The Episcopus Aerobium bacteria nearly a decade ago. He is credited with curing virtually every disease known to mankind and his personality has made him a legend, but he has a deadly secret that he has been hiding from the public for years. Bishop acquires the business of one of his oldest colleagues, Daisy, and the veil of his success is soon torn down. Daisy has a long-standing hatred of Harrison and a history of eradicating men who hurt her career. The lives of the two come crashing together as they are forced to decide, who is the superior killer and who will outlive their war?
The series continued in 2020 with the release of Desperado. This book sees the world changing after the spread of the Adversus Anaerobius outbreak, the only known bacteria able to resist The Episcopus Aerobium vaccine. It is an epidemic with a high death toll and scientists are unable to produce a cure. Barnes, on the run, is retrieved by Daisy to try and convince him to return home and save humanity.
Order of Books » Authors »