Order of Kate Alice Marshall Books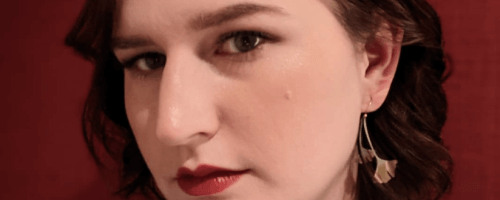 Kate Alice Marshall is an American author of YA and children's science fiction and fantasy novels. She writes the Secrets of Eden Eld series. Kate lives outside of Seattle, Washington with her husband, two kids, and two dogs.
Kate Alice Marshall made her debut as a novelist in 2018 with the novel I Am Still Alive. Her next novel was Rules for Vanishing, which came out in 2019. Below is a list of Kate Alice Marshall's books in order of when they were first published:
Publication Order of Secrets Of Eden Eld Books
Publication Order of Standalone Novels
| | | |
| --- | --- | --- |
| I Am Still Alive | (2018) | |
| Rules for Vanishing | (2019) | |
| Our Last Echoes | (2021) | |
| These Fleeting Shadows | (2022) | |
| What Lies in the Woods | (2023) | |
If You Like Kate Alice Marshall Books, You'll Love…
Kate Alice Marshall Synopses: Rules for Vanishing is a standalone novel by Kate Alice Marshall. Once a year, a road appears in the forest. And at the end of it, the ghost of Lucy Gallows calls out. Lucy's game isn't for the faint of heart. If you win, you escape with your life. But if you lose…
Sara's sister disappeared one year ago – and only Sara knows where she is. Becca went to find Lucy's ghost and is trapped on the road that leads to her. In the sleepy town of Briar Glen, Lucy's road is nothing more than a local folktale. But Sara knows it's more than that, and she's going to find it.
When Sara and her skeptical friends meet in the forest to look for Becca, the mysterious road appears before them. All they have to do is walk down it. But the path to Lucy is not of this world, and does not go by the rules of our world. Every mistake brings on new horrors. Vengeful spirits and broken, angry creatures are waiting for any mistake, and no one is guaranteed safe passage. The only certainty is this: the road has a toll and it will be paid.
Sara knows that if she steps onto the road, she may never return. But Becca needs her. And Lucy is waiting.
Our Last Echoes by Kate Alice Marshall is a standalone novel. In 1973, the thirty-one residents of Bitter Rock disappeared. In 2003, so did Sophia's mother. Now, she's come to Bitter Rock to find out what happened to her mom – and to her. Because Bitter Rock has many ghosts. And Sophia might be one of them.
Sophia's earliest memory is of drowning. She remembers the darkness of the water and the briny taste as it filled her throat, the sensation of going under. She remembers hands rescuing her, but that memory is impossible – she's never been to the ocean.
But then Sophia gets a mysterious call about an island named Bitter Rock, and learns that she and her mother were there fifteen years ago – and her mother never returned. The hunt for answers brings her to Bitter Rock, but she soon discovers that her mother is just one in a series of disappearances.
People have been vanishing from Bitter Rock for decades, leaving only their ghostly echoes behind. Sophia is the only one who can break the cycle – or risk becoming nothing more than another echo haunting the island.
Order of Books » Authors » Order of Kate Alice Marshall Books