Order of Kira Peikoff Books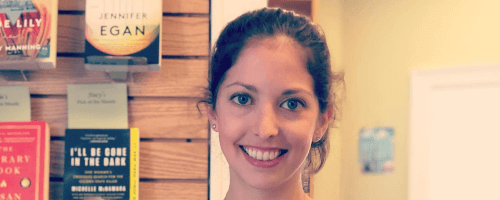 Kira Peikoff is an American author of thriller novels. Kira was named after the protagonist in We the Living by Ayn Rand. Her dream of becoming a novelist began when she was 13 after reading Gone with the Wind. Kira earned her Bachelor of Arts degree (with honors) in journalism from New York University.
Kira Peikoff made her debut as a novelist in 2012 with the novel Living Proof. She was frustrated with President Bush's stance against stem-cell research, causing her to write a novel where embryos are protected by law. Below is a list of Kira Peikoff's books in order of when they were originally released:
Publication Order of Standalone Novels
If You Like Kira Peikoff Books, You'll Love…
Kira Peikoff Synopses: Living Proof is a standalone novel by Kira Peikoff. By 2027, destroying an embryo is now classified as first-degree murder in the United States. Although fertility clinics still exist, providing hope and new life to countless infertile families, they must undergo strict inspections from the United States Department of Embryo Preservation. Any failure to meet the government's requirements could result in prosecution.
The spotlight is shining brightly on the brilliant young doctor, Arianna Drake. Her small clinic not only meets but exceeds all government regulations, and its popularity has skyrocketed. This sudden and rapid growth raises suspicions with the DEP chief, who is left mystified. Upon discovering Arianna's past as a supporter of an infamous scientist, he sends undercover agent Trent Rowe to investigate her for any possible illegal activity.
As Trent is pulled deeper into Arianna's enigmatic world, his own life begins to unravel. The secret he uncovers will profoundly affect him and put them both in danger. With the clock ticking away Arianna's life, Trent finds himself questioning everything he thought he knew and must summon the courage to take the ultimate risk. The fate of human life and a significant scientific breakthrough hangs in the balance.
No Time to Die is a standalone title by Kira Peikoff. A gifted scientist in a research lab in Washington, D.C. is viciously attacked by his own test subjects, while a talented biochemist at Columbia University disappears after being lured out of her apartment. Agent Les Mahler of the Justice Department's Bioethics Committee notices a troubling pattern emerging.
Zoe Kincaid, a slight college student, possesses a rare genetic composition that could unlock a significant medical advancement. When she is abducted, humanity's long-sought-after goal may become its ultimate undoing.
In Die Again Tomorrow by Kira Peikoff, Isabel Leon is the star of a survival reality show and believes that she can overcome anything. However, her naivete puts her life in danger when she unknowingly provides an unscrupulous mogul with the opportunity to profit from her murder. This puts her in the crosshairs of a terrifying killer who makes nature look mild in comparison.
Initially left for dead, Isabel is saved by a medical research team that operates outside of the law. When she wakes up, she discovers that she is the living proof of a groundbreaking discovery that could change the world. Some individuals are willing to pay any price to control it, while others are willing to steal the secret – even if it means sacrificing Isabel's life.
As Isabel is pursued by powerful adversaries, she must risk everything to protect those she cares about or face another deadly tomorrow.
In Mother Knows Best by Kira Peikoff, Claire Abrams has been haunted by the tragedy of losing her son due to a genetic mutation. Desperate for a chance to be a mother again, she turns to Robert Nash, a renegade fertility doctor who operates under the radar with Jillian Hendricks, a brilliant young scientist determined to make her mark in the field and win over her boss.
Together, Claire, Robert, and Jillian embark on a groundbreaking experiment to create the world's first baby with three genetic parents, which could potentially eliminate inherited diseases. However, their illegal endeavor is discovered, and Robert goes into hiding with a pregnant Claire, leaving Jillian to face a prison sentence that derails her future.
Ten years later, Abigail, the daughter of Robert and Claire, begins to sense that something is amiss with her reclusive parents. However, the family's problems are only just beginning. Jillian, fueled by a decade of envy and loss, has returned and will stop at nothing to reunite with the man and daughter she believes should have been hers.
Order of Books » Authors » Order of Kira Peikoff Books