Order of Kiran Millwood Hargrave Books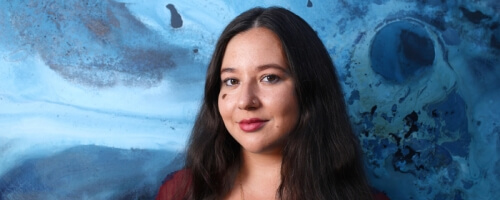 Kiran Millwood Hargrave is a poet, playwright, and autho rbes tknown for her books The Girl of Ink & Stars and The Island at the End of Everything.
Kiran won the Children's Book of the Year at the British Book Awards and the Waterstones Children's Book Prize for The Girl of Ink & Stars. The Island at the End of Everything was long listed for the Carnegie Medal in addition to its numerous starred reviews. Millwood Hargrave lives in Oxford with her husband, the artist Tom de Freston.
Publication Order of Standalone Novels
| | | |
| --- | --- | --- |
| The Girl of Ink and Stars / The Cartographer's Daughter | (2016) | |
| The Island at the End of Everything | (2017) | |
| The Way Past Winter | (2018) | |
| The Deathless Girls | (2019) | |
| The Mercies | (2020) | |
| A Secret of Birds & Bone | (2020) | |
| Julia and the Shark | (2021) | |
| The Dance Tree | (2022) | |
Publication Order of Collections
Publication Order of Anthologies
If You Like Kiran Millwood Hargrave Books, You'll Love…
The Girl of Ink & Stars is a beautifully written story of friendship, discovery, myths, and magic. The book takes place on the island of Joya. The island has changed. It was once a place where sonbirds sang in every tree and islanders were free to do what they want, but that was before the Governor arrived and changed everything. Now there are no songbirds and the people are forbidden to travel beyond the forest. Young Isabella ends up at the center of things when some mysterious events shake the community. She is the daughter of the island's mapmaker which puts her in position to lead a party of explorers into the forest in search of answers.
Kiran wrote The Mercies in 2020 and the story takes place in the 1600s. The story introduces us to Maren Magnusdatter who is one of the women of the tiny Arctic town of Vardø who must fend for themselves after all the menfolk of their town have been wiped out. Three years after the death of the men, a stranger arrives on the shore with his young wife. Ursa is married to Absalom, who burned witches in Scotland, and is somewhat terrified by him. She finds the independent women of Vardø inspiring, but her husband sees more evil. The two will clash with Vardø's very existence at stake.
Order of Books » Authors »