Order of Lyndsay Faye Books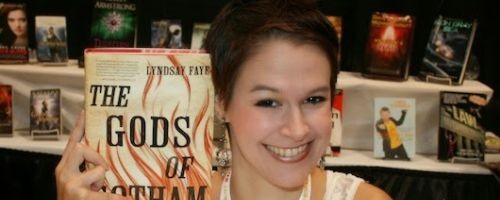 Lyndsay Faye is an American author. Growing up in the Pacific Northwest, Lyndsay first moved to Belmonth California and graduated with a dual degree in English and Performance from Notre Dame de Namur University. After working as a professional actress all throughout the Bay area for a few years she relocated to Manhattan, NY in 2005 as she had an audition for work as a professional actress but found her days more open when her day job at a restaurant was knocked down with bulldozers. She resides North of Harlem with her husband and two cats, Prufrock and Grendel. When she isn't writing or reading or editing, she can be found cooking, sampling new types of microbrew or inventive ways to mismatch her clothing.
Lyndsay is a member of Actor's Equity Association, the Adventuresses of Sherlock Holmes, and the Baker Street Irregulars and very proud to be a member.
Publication Order of Timothy Wilde Books
Publication Order of Standalone Novels
Publication Order of Short Stories/Novellas
Publication Order of Short Story Collections
Publication Order of Bibliomysteries Books
Chronological Order of Bibliomysteries Books
Publication Order of Anthologies
If You Like Lyndsay Faye, You'll Love…
Lyndsay Faye Synopsis: In The Fatal Flame by Lyndsay Faye, in the 1840's no one in New York liked fires but least of all is Copper Star Timothy Wilde. An arsonist with an agenda begins to threaten Alderman Robert Symmes who is a powerful and corrupt leader high in the Tammany Hall ranks Copper isn't happy at all to be involved. When his brother Valentine announces that he is going to run against Symmes in the next upcoming election Copper's reservations escalate even more and both Timothy and Copper find themselves many powerful enemies. While all this is happening, the love of Coppers life Mercy Underhill shows up unannounced on his doorstep and has with her an orphan with a delicate grip on reality. Could this girl be the key to stopping those who have been setting the fires across the city? They have to unravel the cryptic descriptions she gives to find out just what she knows.
Order of Books » Authors »