Order of Marnie Riches Books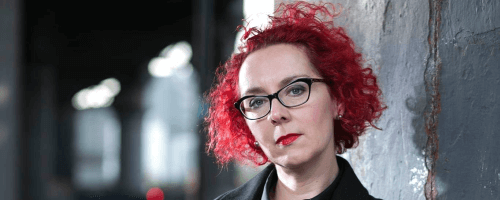 Marnie Riches is an English author of crime thriller novels. She writes the DS Jackie Cooke series, Bev Saunders series, and the Georgina McKenzie series. Marnie grew up in a rough area of Manchester, and later attended Cambridge University – earning a Master's degree in German and Dutch. When she isn't writing, Marnie is a Royal Literary Fund Fellow, teaching at Cambridge University's postgraduate researcher unit and also tutors the Faber Novel Writing Course. She also writes historical saga novels as Maggie Campbell.
Marnie Riches made her debut as a novelist in 2015 with The Girl Who Wouldn't Die, which began her Georgina McKenzie series. Below is a list of Marnie Riches' books in order of when they were first released:
Publication Order of Bev Saunders Thriller Books
Publication Order of Detective Jackie Cooke Books
Publication Order of Georgina McKenzie Books
Publication Order of Manchester Books
If You Like Marnie Riches Books, You'll Love…
Marnie Riches Synopses: Tightrope by Marnie Riches is the first book in the Bev Saunders series. Having lost everything following her marriage ending, Beverley Saunders now resides in the basement flat of a house owned by her best friend Sophie and her husband, Tim. With Bev's former promising marketing career in the gutter, she begins to do investigative work for other wronged women, gathering info on cheaters, bosses and exes.
But when Beverley takes on the case of Sophie's friend Angela, who is seeking to uncover grounds for divorce from her controlling husband, Jerry, the shadow Science Minister, she soon discovers that she isn't the only one doing the investigating…
Beverley has a secret history she doesn't want coming out – but will she manage to stay hidden long enough to give Angela the freedom she deserves?
The Girl Who Wouldn't Die is the first George McKenzie novel by Marnie Riches. When a bomb strikes a university, Georgina McKenzie is shocked – and then determined to find out more. As an aspiring criminologist, she doesn't believe the media spin about a suicide bomber. The story doesn't make sense.
Detective Paul van den Bergen is under pressure to solve the case, but when a second explosion takes the life of another student, he suspects a serial killer is responsible. And he knows the perfect person to help find them: George.
George knew both of the victims and is desperate to prevent another death. She and Van den Bergen work the case, following clues that take them from the quiet streets of Amsterdam to an elite underground club where life is cheap. But George is unaware of her own connection to the murders… or that she's being watched. Can she stop the killer? Or is she falling into a trap?
The Lost Ones by Marnie Riches is the first book in the Detective Jackie Cookie series. Seventeen-year-old Chloe Smedley leaves school and spots the person waiting for her across the road. She waves excitedly, hurrying towards them…
A week later, Detective Jackie Cooke is first on the scene when Chloe's body is found. Her own little brother vanished as a child, and while Jackie could not save him, she has sought justice for every other victim since. But as she looks at the way Chloe has been left, a bad feeling in her gut tells her this case is going to be the most difficult in her career thus far. She lays a protective hand on the baby in her belly, and vows to make the world a safer place for her children.
Then another body is found, posed in the same strange way, and Jackie feels certain she is hunting a monster who preys on the vulnerable. Her team won't listen, but Jackie is convinced these victims are all connected – targeted for some terrible purpose.
But when she returns home soon after to find a multi-coloured friendship bracelet on her kitchen counter, her blood runs cold. It's the same one her brother was wearing when she saw him last, almost three decades ago.
Determined to follow every lead and prevent another innocent life being lost, Jackie realises that only by going into her own past will let her catch the killer… unaware that he is already watching her every move…
Order of Books » Authors » Order of Marnie Riches Books