Order of Martin Amis Books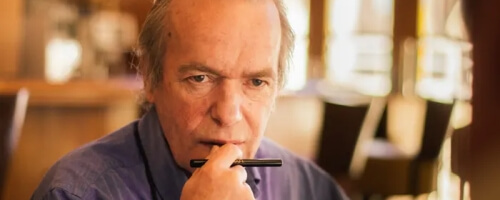 Martin Amis is a British novelist best known for writing Money and London Fields. He was honored as the James Tait Black Memorial Prize for his memoir Experience. Additionally, he was named as one of the 50 greatest British writers since 1945 by The Times.
Amis was born in Oxford, England and his father was an English novelist as well. Sir Kingsley Amis was his father and his mother was Hilary A Bardwell, the daughter of a Ministry of Agriculture civil servant. He attended numerous schools before his father's writing success sent the family to Princeton, New Jersey. He would attend Exeter College, Oxford where he would graduate with a "Congratulatory" First in English. After college, he would go to work at The Times Literary Supplement and later became literary editor of the New Statesman.
Publication Order of Standalone Novels
Publication Order of Short Story Collections
Publication Order of Non-Fiction Books
Publication Order of Anthologies
If You Like Martin Amis Books, You'll Love…
Money is Amis' most popular novel and the first in the London Trilogy. The book tells the story of John Self, one of the top commercial director's in London, who is given the chance to make a feature film. The movie is alternately titled Good Money and Bad Money, and as he's making it he's talking money and spending money to get the job done. Self finds himself circling down a spiral of degeneracy with of drinking, sex, drugs, and excessive quantities of fast food, and finds it increasingly hard to escape from this life.
Amis is also the author of The Zone of Interest. This book is set as a love story, but takes place in a wholly unromantic and depressing setting. The story tells three interwoven stories of Thomsen, Doll and Szmul from the perspective of the holocaust camps. The story is difficult for many, but the tale of Germans who are running the camp and the rubber factory attached to it falling in love is a rewarding and powerful read.
Order of Books » Authors »