Order of Martina Cole Books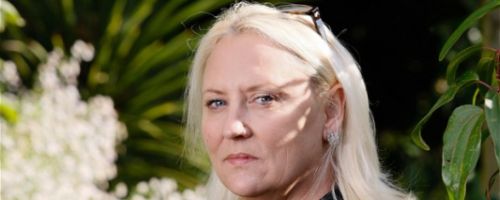 Martina Cole is a British author of crime fiction and thriller novels. Her novels often deal with the seedy underworld of London, England and feature a female protagonist. Several of her novels have been adapted to film, televsion and stage. Several of Martina's novels have appeared on The Sunday Times' bestsellers list.
Martina Cole published her first novel, Dangerous Lady in 1992. Since then, she has had a new novel out almost ever year. Below is a list of Martina Cole's books in order of when they were first released:
Publication Order of Maura Ryan Books
Publication Order of DI Kate Burrows Books
Publication Order of Standalone Novels
| | | |
| --- | --- | --- |
| Goodnight Lady | (1994) | |
| The Jump | (1995) | |
| The Runaway | (1997) | |
| Two Women | (1999) | |
| Faceless | (2001) | |
| The Know | (2003) | |
| The Graft | (2004) | |
| The Take | (2005) | |
| Close | (2006) | |
| Faces | (2007) | |
| The Business | (2008) | |
| The Family | (2008) | |
| The Faithless | (2011) | |
| The Life | (2012) | |
| Revenge | (2013) | |
| The Good Life | (2014) | |
| Get Even | (2015) | |
| Betrayal | (2016) | |
| No Mercy | (2019) | |
Publication Order of Non-Fiction Books
If You Like Martina Cole Books, You'll Love…
Martina Cole Synopses: Dangerous Lady is Martina Cole's debut novel. Most would doubt that a 17 year-old girl would be any match for the gangs of London, but most aren't Maura Ryan. Maura is not only tough, but also savvy and stunning, making her a very dangerous lady. She and her brother Michael are unbeatable as a team, but along with notoriety comes a price. The police want to put Maura behind bars – and even members of her family aren't going to argue.
No Mercy is a standalone novel by Martina Cole. Diana Davis finds herself at the helm of the family enterprise after her husband's passing, a man remembered as an infamous bank robber. Stepping into a realm dominated by men, she commands respect and instills fear—no one dares to underestimate her.
Her sole son, Angus, bears an innate affinity for villainy, yet he craves more than just heritage; he yearns for his mother's trust and recognition. To secure a place within the family business, he must first demonstrate his competence and resourcefulness, hurdling obstacles to earn Diana's endorsement.
Once he showcases his adeptness in managing their establishments in the sun-soaked haven of Marbella, Angus attains what he's coveted—an avenue to wield his power. It marks the inception of a ruthless reign that knows no boundaries, a trajectory of control and dominance that unravels unchecked.
Yet amidst his ruthless ascent, Angus carries a vulnerability—his wife, Lorna, and their three children, Angus Junior, Sean, and Eilish. This very family that should have been his strength becomes a chink in his armor, a blind spot that elicits unforeseen repercussions. As the upcoming generation entwines itself into the fabric of their perilous undertakings, Angus confronts a brutal reality. In this world where business and kin are inextricably linked, he must confront a harsh truth: even amidst the embrace of family, mercy remains an elusive luxury.
Betrayal is a standalone title by Martina Cole. In a world of survival, trust is the linchpin that determines fate. Aiden O'Hara's life has been defined by leadership since his youth, and he's resolute in retaining his position of authority. Jade Dixon stands as the guardian at his side—the mother of his son, the one who fortifies his invincibility. Yet, Jade's history in this world far predates Aiden's. She harbors an awareness that no one is impervious to harm. As they perch atop the hierarchy, the necessity of vigilance intensifies, particularly when it concerns those in the inner circle.
At the zenith of power, the challenge becomes most acute—to surveil those closest to you. And in a domain where supremacy is contested by rivalries and alliances, the distinction between allies and adversaries blurs, and the loyalty of those once trusted becomes a question mark that looms ominously.
Order of Books » Authors »