Order of Matthew Harffy Books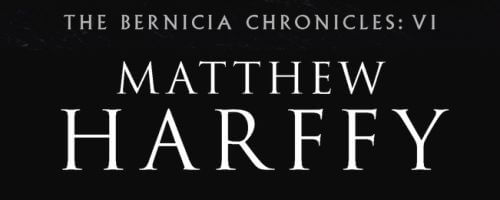 Matthew Harffy is the author of The Bernicia Chronicles series and A Time for Swords series.
Harffy grew up in Northumberland as a child. The area had a great impact him as a young man as he loved seeing the ruined castles and rocky coastlines. Years later, Matthew would watch a documentary about Norhumbria's Golden Age which gave him the spark of an idea that ultimately led to the Bernicia Chronicles series of books. The author has worked in the IT industry throughout his life. He now makes his home in Wiltshire, England with his family.
Publication Order of The Bernicia Chronicles Books
| | | |
| --- | --- | --- |
| The Serpent Sword | (2015) | |
| The Cross and the Curse | (2016) | |
| Blood and Blade | (2016) | |
| Kin of Cain | (2017) | |
| Killer of Kings | (2017) | |
| Warrior of Woden | (2018) | |
| Storm of Steel | (2019) | |
| Fortress of Fury | (2020) | |
| For Lord and Land | (2021) | |
| Forest of Foes | (2022) | |
Publication Order of A Time for Swords Books
Publication Order of Standalone Novels
If You Like Matthew Harffy Books, You'll Love…
A Time for Swords is the first book in the series of the same name. The story begins in AD793 in Lindsifarne as the Viking Age begins with a pillage of a monastery. Many monks flee before the Norse attack, but one decides to stand his ground. He has always been taught about forgiveness in his faith, but with the crimes before him he finds that to be impossible. Hunlaf will come to learn an important lesson: there is a time for faith and there is a time for swords. Now is the time for swords.
The Bernicia Chronicles series begins with The Serpent Sword. Beobrand has a dark past and is an outsider in Bernicia, but he joins his brother as a warrior for King Edwin to defend the kingdoms of Northumbria. It is a dark age and there is much death and war. When Beobrand learns that his brother may have been murdered, he sets out for vengeance. He is inexperienced and must first learn to fight as a warrior. The challenges will turn him from a boy into a man, but can he get his revenge without sacrificing his honour?
Order of Books » Authors » Order of Matthew Harffy Books