Order of Peter Tremayne Books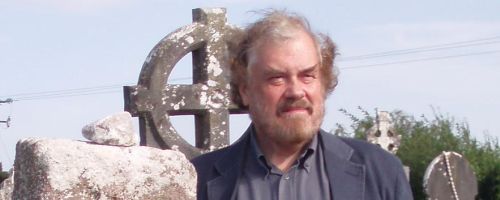 Peter Tremayne and Peter MacAlan are the pen names of British novelist, historian and biographer Peter Berresford Ellis. As Peter Tremayne, he currently writes historical mysteries – most notably the Sister Fidelma series. In the past, he has written horror novels, often featuring monsters, creatures and other supernatural beings. As Peter MacAlan, he wrote adventure-thrillers from 1983 until 1993. His career began as a junior reporter, then moved up to deputy editor and finally as an editor of a trade journal. He became a full-time writer in 1975. As of this writing, Peter has written around 100 books, 100 short stories, pamphlets, academic papers and columns.
Peter Tremayne became a published novelist on August 12th, 1977 with the novel Hound of Frankenstein. He would follow that up only a few months later in October, with the novel Dracula Unborn. Below is a list of Peter Tremayne's books in order of when they were originally published:
Publication Order of Sister Fidelma Books
Publication Order of Sister Fidelma Collections
Publication Order of Dracula Lives Books
Publication Order of Lan-Kern Books
Publication Order of Standalone Novels
Publication Order of Short Story Collections
Publication Order of Non-Fiction Books
Publication Order of The Mammoth Book of... Books
Publication Order of Anthologies
Notes: The novels Judas Battalion, Airship, The Confession, Kitchener's Gold, Valkyrie Directive, Fireball, The Windsor Protocol and the non-fiction book Creeper's Secret War were written as Peter MacAlan. Dracula Unborn was also published as Bloodright: Memoirs of Micrea Son to Dracula. Ravenmoon is also known as Bloodmist. Irish Masters of Fantasy was also titled The Wondersmith and Other Macabre Tales. The non-fiction books The Un-Dead and Creeper's Secret War co-authored with Peter Haining.
If You Like Peter Tremayne Books, You'll Love…
Peter Tremayne Synopses: An Ensuing Evil and Others is a short story collection of Peter Tremayne's historical mysteries, including some featuring Sister Fidelma, others featuring Macbeth and some set in Victorian England. Each story is full of murder, mayhem and mystery, displaying Tremayne's mix of historical detail and a baffling mystery to solve.
The Un-Dead: The Legend of Bram Stoker and Dracula is a non-fiction book by Peter Haining and Peter Tremayne. The book is a biography of Bram Stoker, the creator of the famous Dracula character.
Snowbeast! is a standalone horror novel set in Scotland. The story is about a legendary monster who re-awakens in order to maim and kill anything in its path.
In Kiss of the Cobra, while in West Bengal, Sir Keith Chase stumbles upon a crypt belonging to Monasha. This find becomes the archaeological discovery of the century. However, he was unaware that by opening it, he would unleash an ancient curse onto himself.
Shop Worldwide: Amazon.com | Amazon.co.uk | Amazon.ca
Order of Books » Authors »