Order of R.F. Kuang Books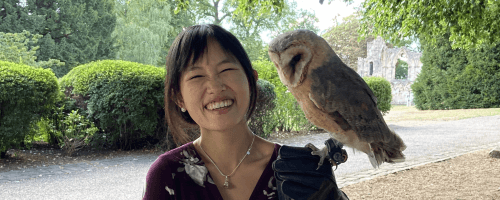 R.F. Kuang is a Chinese-American author of fantasy novels. She is the author of the Poppy War series. R.F. (Rebecca) was born in Guangzhou, China, and moved to the United States when she was four years old, settling in Dallas, Texas. She earned her MPhil in Chinese Studies from Cambridge and MSc in Contemporary Chinese Studies from Oxford. She is currently working on her PhD in East Asian Languages and Literatures at Yale University. Rebecca has won the Astounding Award for Best New Writer, and has been nominated for the Hugo, Nebula, Locus, and World Fantasy awards.
R.F. Kuang made her debut as a novelist in 2018 with The Poppy War. The novel won the Compton Crook Award and Crawford Award for Best First Novel. Below is a list of R.F. Kuang's books in order of when they were originally published:
Publication Order of The Poppy War Books
Publication Order of Standalone Novels
Publication Order of Anthologies
| | | |
| --- | --- | --- |
| From a Certain Point of View: The Empire Strikes Back | (2020) | |
| The Way Spring Arrives and Other Stories of Chinese Science Fiction and Fantasy | (2022) | |
If You Like R.F. Kuang Books, You'll Love…
R.F. Kuang Synopsis: The Poppy War is the first book in a trilogy by R.F. Kuang. When Rin aced the Keju – the Empire-wide test to find the most talented youth to learn at the Academies – it was unexpected, to say the least: to the test officials, who couldn't believe a war orphan from Rooster Province could pass without cheating; to Rin's guardians, who believed they'd finally be able to marry her off and grow their criminal enterprise; and to Rin herself, who realized she was finally free of the servitude and despair that was her life up until this point. That she got into Sinegard – the most elite military school in Nikan – was even more surprising.
But surprises aren't always good.
Because being a dark-skinned peasant girl from the south is considered desirable at Sinegard. Targeted from the start by rival classmates for her skin color, poverty, and even her gender, Rin discovers she possesses a lethal, inhuman power – an aptitude for the nearly-mythical art of shamanism. Exploring the depths of her gift with the help of a seemingly insane teacher and psychoactive substances, Rin learns that gods long thought dead are very much alive – and that learning how to control those powers could mean more than just surviving school.
For while the Nikara Empire is at peace, the Federation of Mugen still lurks across a narrow sea. The militarily advanced Federation occupied Nikan for decades after the First Poppy War, and only barely lost the continent in the Second. And while most of the people are complacent to go about their lives, a few are aware that a Third Poppy War is only a mere spark away…
Rin's shamanic powers may be the only way to save her people. But as she finds out more about the god that has chosen her, the vengeful Phoenix, she fears that winning the war may cost her humanity… and that it may already be too late.
This epic historical military fantasy is in the tradition of Grace of Kings by Ken Liu and N.K. Jemisin's Inheritance Trilogy.
Order of Books » Authors » Order of R.F. Kuang Books