Order of Richard Matheson Books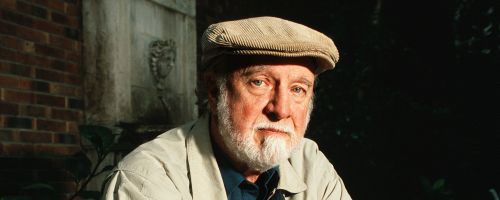 Richard Matheson (1926-2013) was an American author of horror, science fiction and fantasy novels, stories and screenplays. Many of his novels have been adapted into films, including I Am Legend (four times over), The Shrinking Man, Hell House, What Dreams May Come, Somewhere in Time, A Stir of Echoes and Button, Button. He also wrote some of the most famous episodes of The Twilight Zone, including "Nightmare at 20,000 Feet."
Richard Matheson became a published author in 1950 with a short story entitled Born of Man and Woman in 1950. His first novel was a suspense novel, entitled Fury on Sunday, which was published in 1953. Below is a list of Richard Matheson's books in order of when they were originally published:
Publication Order of Standalone Novels
Publication Order of Short Stories/Novellas
Publication Order of Short Story Collections
Publication Order of Graphic Novels
Publication Order of Non-Fiction Books
Publication Order of Alfred Hitchcock Presents Books
(with Donald E Westlake, Ellis Peters, Dorothy L Sayers, Robert Bloch, , , Shirley Jackson, Jack Ritchie, Stanley Ellin, Ray Bradbury, , Robert Arthur, , , F. Scott Fitzgerald, Michael Gilbert, Roald Dahl, , , , , , , , Carter Dickson, , , , Julian May, , , , , , , , , , , , , , James Francis Dwyer, Richard Stark, Margot Bennett)
Publication Order of Star Science Fiction Books
(with Isaac Asimov, Arthur C. Clarke, Ray Bradbury, Frederik Pohl, Jack Vance, Philip K. Dick, Lester del Rey, Jack Williamson)
Publication Order of Kolchak: The Night Stalker Books
Publication Order of Anthologies
Notes: I Am Legend was also published as The Omega Man. The Shrinking Man was also published as Incredible Shrinking Man. Somewhere in Time was originally published under the title of Bid Time Return. Third from the Sun is also known as Born of Man and Woman.
Earthbound was written as Logan Swanson. Comedy of Terror is a novelization by Elsie Lee, based on a screenplay by Richard Matheson. The Night Stalker is a novelization by Jeff Rice, based on a screenplay by Matheson. Pride was co-authored by Richard Christian Matheson. Kiss the Whip also contains contributions by Robert Bloch, Henry Clement, Jean-Paul Denard and Jeremy Reed. Road Rage also contains contributions by Joe Hill and Stephen King. Completely Doomed also has stories by Robert Bloch, David J. Schow and F. Paul Wilson.
If You Like Richard Matheson Books, You'll Love…
Richard Matheson Synopsis: In Ride the Nightmare by Richard Matheson, Chris and Helen were living the good life until Helen finds out about something in Chris' past. Overnight, their relationship turns into a world of fear and brutality that may cause them to lose their only child.
Shop Worldwide: Amazon.com | Amazon.co.uk | Amazon.ca
Order of Books » Authors » Order of Richard Matheson Books