Order of Robert Rankin Books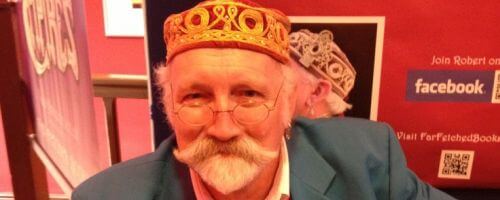 Robert Rankin is a British author of comedic fantasy novels. He writes the Brentford series, Cornelius Murphy series, Japanese Devil Fish Girl series, and more. Robert often sets his novels in Brentford, which is the London suburb he grew up in. He mixes science fiction, occult, urban legends, gags, metafiction and steampunk together. His goal became to create a new genre called Far-Fetched Fiction, and get its own section into bookstores.
Robert Rankin made his debut as a published novelist in 1981 with the novel The Antipope. Below is a list of Robert Rankin's books in order of when they were originally published:
Publication Order of Brentford Books
Publication Order of Armageddon Books
Publication Order of Barking Mad Trilogy Books
Publication Order of Cornelius Murphy Books
Publication Order of Eddie Bear Books
Publication Order of Japanese Devil Fish Girl Books
Publication Order of Standalone Novels
Publication Order of Non-Fiction Books
If You Like Robert Rankin Books, You'll Love…
Robert Rankin Synopses: In The Garden of Unearthly Delights by Robert Rankin, It was something to do with the cycles of history, the way great civilizations rise and fall. Few people noticed the changes at first, and by the time everyone realized, it was too late. Earth had left behind the age of science and reason and moved into a time of myth, legend, wizardry, and heroes.
In Apocalypso by Robert Rankin, The Ministry of Serendipity at Mornington Crescent runs everything. When it learns about a spacecraft that crashed into the Pacific 4000 years ago, it sends a team of paranormal investigators to recover it. Danbury Collins is on the team, but he isn't keen – what if a mad alien thaws out?
Order of Books » Authors » Order of Robert Rankin Books