Order of Terry Pratchett Books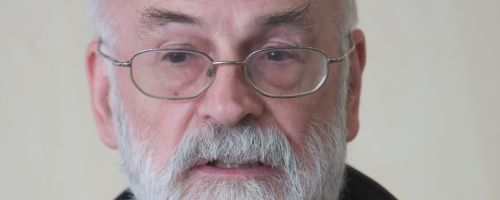 Terry Pratchett was an English author who is best known for his Discworld comic fantasy series.
Terry Pratchett sadly passed away on March 12th, 2015.
Pratchett battled Alzheimer's disease for years after announcing it online in 2007. He died after a chest infection, as well as complications from the Alzheimers.
In true Terry Pratchett style, he had tweets posted on his Twitter immediately following his death. The Tweets stated:
"Terry took Death's arm and followed him through the doors and on to the black desert under the endless night."
"AT LAST SIR TERRY, WE MUST WALK TOGETHER."
"The End."
Pratchett had his first short story published when he was 15 and had been writing ever since. He has been focused on his Discworld series since 1983 with nearly 40 books in the series. He has also written several children's novels and other standalone novels. Many consider Pratchett to be the funniest writer of the last few decades.
Terry Pratchett was a very prolific novelist and his books are enjoyed by readers of all ages worldwide. Below is the order in which Terry Pratchett's novels have been released in:
Publication Order of Discworld Books
Publication Order of Science Of Discworld Books
Publication Order of Discworld Picture Books
Publication Order of Discworld Non-Fiction Books
Publication Order of Bromeliad Trilogy Books
Publication Order of Johnny Maxwell Books
Publication Order of Long Earth Books
Publication Order of Standalone Novels
Publication Order of Short Stories
Publication Order of Short Story Collections
Publication Order of Standalone Plays
Publication Order of Non-Fiction Books
Notes: The Science of Discworld books were written in collaboration with Ian Stewart and Jack Cohen. Good Omens was co-authored with Neil Gaiman. The Long Earth series and the non-fiction book Lu-Tze's Yearbook of Enlightenment were co-authored with Stephen Baxter. Imagined Lives also contains contributions by John Banville, Tracy Chevalier, Julian Fellowes, Alexander McCall Smith, Sarah Singleton, Joanna Trollope and Minette Walters.
The plays Going Postal, Jingo, Mort, Wyrd Sisters, Guards! Guards! and The Truth were co-authored by Stephen Briggs. The play Terry Pratchett's Hogfather was co-authored by Vadim Jean. The play Nation was co-authored by Mark Ravenhill.
The Discworld Companion, Discworld Assassins' Guild Yearbook and Diary 2001, Discworld Thieves' Guild Yearbook & Diary 2002, The New Discworld Companion, The Ankh-Morpork Post Office Handbook: Discworld Diary 2007, Turtle Recall, and The Ankh-Morpork Archives, Vol. 1 were co-authored with Stephen Briggs. GURPS: Discworld Also was co-authored by Phil Masters. The Discworld Almanac for the Common Year 2005 was co-authored by Bernard Pearson. The Unseen University Cut-Out Book was co-authored by Alan Batley and Bernard Pearson. The Folklore of Discworld was co-authored by Jacqueline Simpson.
Shop Worldwide: Amazon.com | Amazon.co.uk | Amazon.ca
Order of Books » Authors » Order of Terry Pratchett Books