Order of Sarah Penner Books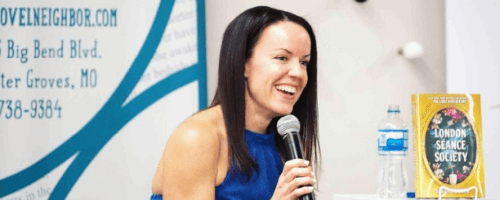 Sarah Penner is an American author best known for her debut novel, The Lost Apothecary. She was born in Maryland and currently resides in St. Petersburg, Florida. Prior to becoming a writer, Penner worked as a magazine editor and freelance writer. She graduated from the University of Kansas with a finance degree. The Lost Apothecary, a historical fiction novel about a secret society of female poisoners in 18th century London, became a New York Times bestseller.
Sarah Penner made her debut as a novelist in 2021 with The Lost Apothecary. Below is a list of Sarah Penner's books in order of when they were originally released:
Publication Order of Standalone Novels
If You Like Sarah Penner Books, You'll Love…
Sarah Penner Synopses: The Lost Apothecary by Sarah Penner is a standalone novel. In eighteenth-century London, a clandestine apothecary shop provides a unique service to women who seek well-hidden poisons to use against their oppressive partners. Its enigmatic proprietor, Nella, is the subject of hushed whispers among the city's female population. However, the shop's existence is threatened when a curious twelve-year-old becomes its newest patron and makes a fatal mistake that triggers a chain of events with long-lasting consequences.
Fast forward to present-day London, where Caroline Parcewell, a hopeful historian, spends her tenth wedding anniversary alone while trying to escape her inner demons. Her life takes an unexpected turn when she discovers a clue related to the unsolved apothecary murders that shook London two centuries ago. In an astonishing twist of fate, Caroline's life becomes intertwined with the apothecary's, and not everyone will emerge unscathed.
The London Séance Society is a standalone title by Sarah Penner. In the year 1873, a remote château on the outskirts of Paris serves as the venue for a dark séance, led by the renowned spiritualist Vaudeline D'Allaire. Her reputation for summoning the spirits of murder victims to identify their killers has made her a sought-after figure among widows and investigators alike.
Lenna Wickes travels to Paris in search of answers about her sister's death, but to uncover the truth, she must suspend her logical beliefs and embrace the unknown world of the occult. When Vaudeline is summoned to England to investigate a high-profile murder, Lenna joins her as an apprentice. Together, they form an unlikely bond that may border on something more. As they team up with the powerful men of London's exclusive Séance Society to solve the case, they soon realize that they may not just be attempting to solve a crime but may have become ensnared in one themselves.
Sarah Penner Reviews: The Lost Apothecary was an absolute delight! I was searching for a book that would immerse me in the witchy, eerie atmosphere of autumn, and it delivered. The way the stories of the two women intertwined was fascinating, and I was completely engrossed until the very last page. The characters were well-developed, and I found myself deeply invested in their journeys. The book was a breeze to read, and I couldn't stop turning the pages. I would highly recommend it to anyone looking for a captivating read, particularly during spooky season. -Heather
Order of Books » Authors »