Order of Sav R. Miller Books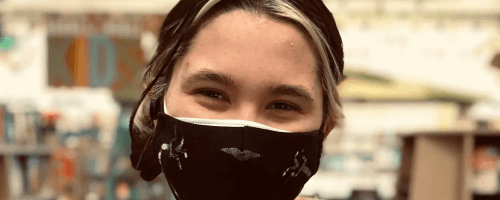 Sav R. Miller is an American author of dark and contemporary romance novels. She writes the Monsters & Muses series and the King's Trace Antiheroes series. Sav earned a degree in Creative Writing in 2018, and has loved both reading and writing all of her life. She now spends her time writing happily-ever-afters for characters who wear "grey" hats. She lives in Kentucky with her two dogs.
Sav R. Miller made her debut as a novelist in 2020 with Sweet Surrender. Below is a list of Sav R. Miller's books in order of when they were originally published:
Publication Order of King's Trace Antiheroes Books
Publication Order of Monsters & Muses Books
| | | |
| --- | --- | --- |
| Promises and Pomegranates | (2021) | |
| Vipers and Virtuosos | (2021) | |
| Oaths and Omissions | (2022) | |
| Arrows and Apologies | (2022) | |
| Souls and Sorrows | (2022) | |
Publication Order of Standalone Novels
If You Like Sav R. Miller Books, You'll Love…
Sav R. Miller Synopses: Be Still My Heart is a standalone novel by Emily McIntire and Sav R. Miller. Skelm Island, Maine is famous for two things: lobsters and its broken lighthouse. But when corpses start surfacing in the water, the isolated town becomes the face of a cryptic investigation.
At the heart of which stands Lincoln Porter, a grumpy ex-SEAL whose lobstering business seems to attract more dead bodies than fish. When homicide expert Detective Sloane is called in to assist with the case, she begins digging up skeletons; ones that Lincoln doesn't want to be unearthed.
Forced to work together, Sloane's suspicious attitude and optimistic demeanor grate on the lobsterman's nerves, resulting in a rivalry that's as addictive as it is volatile.
But as everything unravels and they have no one else to trust, Lincoln and Sloane must depend on each other to figure out what secrets should be brought to light – and which secrets should stay hidden.
Promises and Pomegranates is the first book in Sav R. Miller's Monsters & Muses series. It is a full-length, standalone, dark contemporary romance loosely based on the Hades and Persephone myth. To most, Kal Anderson is a villain. They say he stole Elena. Usurped her fiancé and filled the cracks in her heart with empty promises. Imprinted his crimson fingerprints on her psyche and tried to set her free. And they're not wrong. Except it was her choice to stay.
Elena Ricci is innocent. They say Kal ruined her. Shattered her virtue and devoured her soul like a succulent pomegranate. Embedded his evil as deep as he could possibly get and tried to set her free. They're only wrong about one thing – it was her who ruined him.
The second book of Sav R. Miller's Monsters & Muses series is Vipers & Virtuosos. It is a full-length, standalone dark rockstar romance inspired by the myth of Orpheus and Eurydice. From the second Aiden saw Riley, he knew she'd be his ruin. Sitting all alone at the bar, she looked like an angel. Eurydice in human form; her beauty eclipsed by demons. Now, he's one of them. The ghost she's tried to get away from for all of these years. Thinking he wouldn't be able to find her. But Aiden never stopped trying, and now that he's found her, her past sins should be the least of her worries.
From the moment Aiden saw Riley, she knew she'd ruin his life. When she saw Aiden at the bar, Riley dared the monster to come and play. Orpheus in the flesh, with his sad songs and strange obsessions. She became the siren who calls to the darkest parts of him. But she disappeared before he could act on it. But now he's here, and he wants me to repent for my sins.
Order of Books » Authors » Order of Sav R. Miller Books