Order of Stacey Abrams Books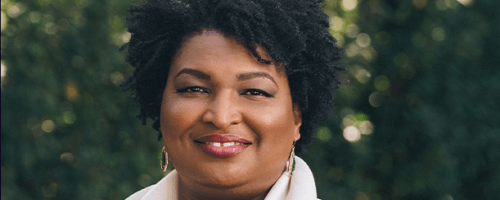 Stacey Abrams is an American politican and author. As an author, she is best known for writing the novel While Justice Sleeps. Abrams has also published numerous children's and non-fiction books.
Abrams had a long run in the Georgia House of Representatives before trying to seek a bigger office. In her political career she may best be known for her role in launching Fair Fight Action and Fair Fight 2020 to defend voting rights. Abrams was awarded the John F. Kennedy New Frontier Award. She is also a member of the Board of Directors for the Center for American Progress and Priorities USA. Stacey was born in Wisconsin, but moved to Mississippi and then Georgia for her upbringing.
Publication Order of Standalone Novels
Publication Order of Picture Books
Publication Order of Non-Fiction Books
Publication Order of Faraday Books
(as Selena Montgomery)
If You Like Stacey Abrams Books, You'll Love…
While Justice Sleeps follows Avery Keene, a young law clerk, who is under the legendary Supreme Court Justice, Howard Wynn. Keene is doing her best to excel at the job while also dealing with a troubled family. Avery's life is flipped upside down when Justice Wynn ends up in a coma. She finds that the Justice left instructions for her to serve as his legal guardian and power of attorney in this situation. Her new role leads to her learning more about what Wynn had been working on, a case that would change the medical field, and also finds a conspiracy that reaches the heights of Washington political power.
Lead from the Outside: How to Build Your Future and Make Real Change is a non-fiction book by Abrams. The book is a handbook for outsiders like Abrams as she knows the challenges that will come because she has faced them. She believes that knowing your passion is the key to success and breaks down some practical strategies for readers.
Order of Books » Authors » Order of Stacey Abrams Books