Order of T.C. LoTempio Books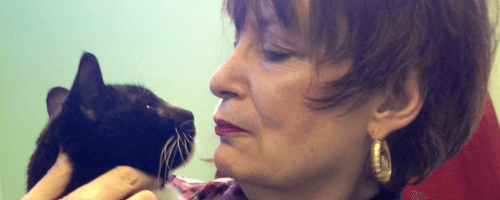 T.C. LoTempio is an American author of cozy mystery novels. She writes the Nick and Nora Mysteries series, the Purr N' Bark Pet Shop Mysteries series, and more. T.C. (or Toni) has worked as a staff reporter for the YA mag Susabella Passengers and Friends. She fell in love with the mystery genre by reading Nancy Drew in The Secret in the Old Attic when she was 10. Toni is passionate about her cats, who inspire the feline characters in her mysteries. She also writes other genres as Toni LoTempio.
T.C. LoTempio made her debut as a novelist in 2010 as Toni LoTempio, but debuted under this pen name in 2014 with Meow If It's Murder. Below is a list of T.C. LoTempio's books in order of when they were originally released:
Publication Order of Cat Rescue Mystery Books
Publication Order of Nick and Nora Mysteries Books
| | | |
| --- | --- | --- |
| Meow If It's Murder | (2014) | |
| Claws for Alarm | (2015) | |
| Crime and Catnip | (2016) | |
| Hiss H for Homicide | (2021) | |
| Murder Faux Paws | (2022) | |
| A Purr Before Dying | (2023) | |
Publication Order of Purr N' Bark Pet Shop Mystery Books
Publication Order of Tiffany Austin Food Blogger Mystery Books
If You Like T.C. LoTempio Books, You'll Love…
T.C. LoTempio Synopses: Purr M for Murder is the first book in the Cat Rescue Mysteries series by T.C. LoTempio. Sydney McCall's life takes a dramatic turn when she leaves behind her past in New York City and her ex-fiancé to return to her hometown, Deer Park, North Carolina. Alongside her sister, Kat, she dedicates herself to running the local animal shelter, Friendly Paws, which is facing financial troubles.
In a bid to save the shelter, Sydney and Kat organize a cat café fundraising event at a nearby coffee shop. However, their plans are thrown into jeopardy when their landlord, Trowbridge Littleton, threatens to shut down the event. Determined to find a resolution, Sydney visits Littleton's art gallery to negotiate but instead stumbles upon a shocking discovery—Kat, along with Littleton's lifeless body.
The local homicide detective, Will Worthington, happens to be Sydney's old high school crush, and he becomes highly suspicious of the sisters' involvement in the mysterious death. Faced with the threat of being labeled as suspects, Sydney takes matters into her own hands and begins her own investigation, enlisting the help of a clever orange tabby cat from the shelter, named Toby.
As Sydney delves deeper into the case, she starts probing into the activities of other local businesses, suspecting that some may have benefited from Littleton's demise. However, her relentless pursuit of the truth attracts the attention of the real killer, putting her in grave danger.
Meow If It's Murder by T.C. LoTempio is the first book in the Nick and Nora Mysteries series. Nora Charles, a crime reporter who doesn't believe in fate, returns to her hometown of Cruz, California, seeking a quieter life. However, her plans take an unexpected turn when she stumbles upon an online magazine looking for stories and befriends a clever stray cat named Nick, who happens to have a talent for detection.
As Nora settles back into Cruz, she reconnects with old friends and forms new bonds, especially with Nick, who appears determined to become her feline companion. But not everything in Cruz is as welcoming as her newfound friendships. Drawn back into investigative reporting, Nora delves into the mysterious death of socialite Lola Grainger, which had been ruled as an accident. However, Nora suspects foul play and finds herself compelled to uncover the truth.
The plot thickens when Nora learns that Nick once belonged to a private investigator who disappeared while investigating Lola Grainger's death. The coincidence is eerie, but what's even more intriguing are the clues Nick spells out for her using Scrabble letters. These cryptic messages lead her down a perilous path, and Nora must rely on her intellect and bravery to solve the case.
As Nora delves deeper into the investigation, she becomes entangled in a dangerous web of secrets and deceit. Whether it's fate or mere coincidence that brought her to this case, Nora must summon all her wit and courage, and perhaps even rely on Nick's remarkable instincts, to unravel the truth behind Lola Grainger's death. In this captivating mystery filled with twists and turns, Nora and her clever feline companion embark on a thrilling journey that will test their limits and, possibly, reveal the unexpected connection between them.
Order of Books » Authors »