Order of Tom Robbins Books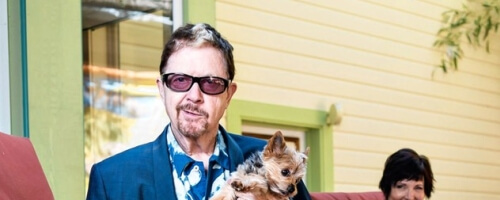 Tom Robbins is an American author best known for his unique brand of comedy-drama novels or "seriocomedies" as he called them. His writing style is poetic in nature and feature social and philosophical themes. He is perhaps best know as the author of Jitterbug Perfume: A Novel.
Robbins had one of his books, Even Cowgirls Get the Blues, turned into a movie by famed director Gus Van Sant. The film starred Uma Thurman, Lorraine Bracco, and Keanu Reeves. While the film got rough reviews and is rated lowly on Rotten Tomatoes, it is well known for having a great score by k.d. lang.

Publication Order of Beer! Books
Publication Order of Standalone Novels
Publication Order of Collections
Publication Order of Non-Fiction Books
Publication Order of Anthologies
If You Like Tom Robbins Books, You'll Love…
Jitterbug Performance is Tom Robbins' epic in a uniquely Robbins way. That means that it begins in the forests of ancient Bohemia and ends at nine o'clock tonight, Paris time. The hero of this story is a janitor with a missing bottle, a very old bottle with the image of a goat-horned god on it. Some people think that the liquid in the bottle is the secret essence of the universe and if that's true, he needs to find it right away because it is leaking and there is only a few drops left.
The book that became a film, Even Cowgirls Get the Blues is another special novel by Robbins. The FBI has never seen anything like these whooping crane rustlers. They are young cowgirls who rebelled at the Rubber Rose Ranch. Despite their uniqueness, their rebellion is overshadowed by the legendary Sissy Hankshaw, a white-trash goddess born to hitchhike and the freest female of them all, arrives at the ranch. This is one of the quickest reads of all the Robbins' books and also one of the best examples of his brand of philosophical comedy.
Order of Books » Authors »
One Response to "Order of Tom Robbins Books"