Order of Tommy Robinson Books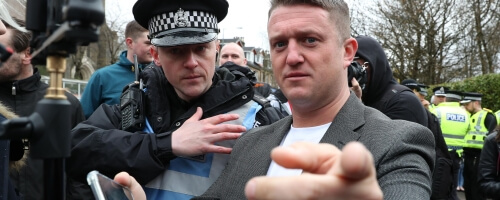 Tommy Robinson is a British far-right activist and a political adviser to the Leader of the UK Independence Party. He is also the co-founder of the English Defence League and a former member of the British National Party. In 2015, he published a book of memoirs called Tommy Robinson: Enemy of the State.
Robinson was a very controversial figure in his time with the EDL. While he portrayed the EDL as being "against the rise of radial Islam" and not against Islam, many of its members were considered to be anti-Muslim. He was convicted in 2011 of using threatening, abusive or insulting behaviour during a fight between supoorters of Luton Town and Newport County in which he was a key part of a 100-man brawl. He'd then be arrested again for attending an EDL demonstration, which he was not allowed to do as part of his bail. He'd later be convicted of assaulting a fellow EDL member which led to another charge.
Publication Order of Memoirs
If You Like Tommy Robinson Books, You'll Love…
In 2012, Robinson appeared on the Big Questions alongside Mo Ansar, a British Muslim political and social commentator. The two would have many meetings which led to him having a change of heart on the dangers of far-right extremism. Robinson left the EDL in 2013. He would later return to his ant-Islam agenda in 2015 when his prison license expired and he "regained his freedom of speech" according to his words.
Robinson has been banned from Facebook, Twitter and YouTube for controversial behavior that have breached the site's guidelines.
Enemy of the State is Robinson's book of memoirs. The book tells his side of the story growing up in Luton, a town with gangs and many Islamic people, and how his livelihood was taken during a protest about it. He tells how his refusal to be broken by the beliefs and how the police attempted to blackmail him into working for them.
Order of Books » Authors » Order of Tommy Robinson Books