Order of Uzma Jalaluddin Books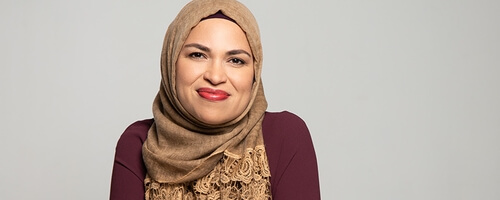 Uzma Jalaluddin is an author who burst onto the scene with her debut romantic comedy, Ayesha At Last. The story is a Pride and Prejudice reboot that is set in a close knit Toronto Muslim community and focuses on a boisterous South Asian family. The book was featured on The Today Show and was also named one of Publishers Weekly's best romance books of 2019.
Jalaluddin was short-listed for the Kobo Emerging Writer Award and also long-listed for the Stephen Leacock Medal and the Toronto Book Awards. She also writes a funny parenting column for the Toronto Star called "Samosa and Maple Syrup". She lives in Toronto with her husband and children.
Publication Order of Standalone Novels
If You Like Uzma Jalaluddin Books, You'll Love…
Ayesha at Last is Uzma Jalaluddin's smash debut novel. The book features a woman named Ayesha Shamsi who dreams of being a poet, but had to set those dreams aside to get a teaching job so that she can pay her wealthy uncle back what he owes him. Ayesha lives with her Muslim family, inlcuding her cousin Hafso who is close to rejecting her one hundredth marriage proposal. Ayesha is looking for love, but she doesn't want an arranged marriage for her. Her life takes a turn when she meets Khalid – a smart, handsome, and judgmental man. She is very attracted to him, but he looks down on her life choices while looking like he lives in the seventh century. Then one day there is a marriage announcement that shocks Ayesha to her core: Khalid and Hafsa are engaged. Ayesha finds herself torn between how she feels about the straightforward Khalid and the gossip she is hearing around about his family. She finds herself looking into the rumors and finds more than she expects and now has to face the truth about Khalid and herself.
Order of Books » Authors »