Order of Wendy Webb Books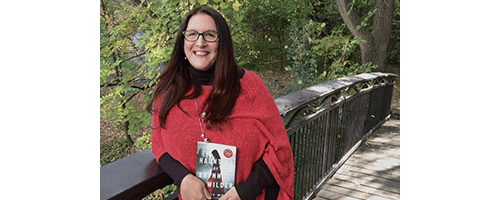 Wendy Webb is an American author of gothic suspense novels. A Minnesota native, she graduated from the University of Minnesota, majoring in political science. Following graduation, she spent time in France. Upon returning Stateside, she got an internship with a congressman in D.C. and then got a job working for a Minnesota senator. When Wendy got back to Minnesota, she got a writing job with an entertainment magazine, and her journalism career was underway. While she loved being a journalist, her dream was to become a novelist. When her home life and work gave her the chance, she began writing fiction and has never looked back.
Wendy Webb made her debut as an author in 2010 with the novel The Tale of Halcyon Crane. Below is a list of Wendy Webb's books in order of when they were originally released:
Publication Order of Standalone Novels
Publication Order of Greystone Bay Books
Publication Order of The Mammoth Book of... Books
Publication Order of Anthologies
If You Like Wendy Webb Books, You'll Love…
Wendy Webb Synopses: The Tale of Halcyon Crane by Wendy Webb is a standalone novel. Hallie James's life is thrown off balance when a mysterious letter arrives in her mailbox. After hearing that her mother had died in a fire decades earlier, Hallie was raised by her loving father. However, it turns out that Madlyn, her mother, was still alive until only recently. Hallie's father took her away from Madlyn for what reason? What exactly transpired with her family 30 years ago?
Hallie travels to the island in the middle of the Great Lakes where her mother lived in order to find answers. Hallie quickly realizes that the dark secrets of her family are intertwined with the strange place's past as the stiff islanders stare at her with icy stares and then unabashed amazement. However, not everyone reacts so negatively to her; a coffee shop owner and the family lawyer become enamored with Hallie, opening the door to potential romance. And then there is the grand Victorian home that was left to her. Maybe it's the eerie atmosphere or the elegant, elderly maid who used to work for her mother, but Hallie can't shake the feeling that strange things are starting to happen…
The Fate of Mercy Alban is a standalone title by Wendy Webb. Grace Alban has avoided her childhood home, the grand Alban House on the shores of Lake Superior, for reasons she would rather forget for more than two decades. Grace, on the other hand, discovers that more than just her own personal demons are haunting Alban House after the sudden death of her mother brings her and her teenage daughter back.
Grace is drawn into a decades-old mystery about a scandalous party at Alban House, where a world-famous author committed suicide and Grace's aunt vanished without a trace thanks to a box of old love letters, long-buried family secrets, and a lost manuscript. For all these years, the powerful Alban family has kept the night a secret. On the day she died, her mother intended to tell a reporter the truth about that night. Could it have been murder? Or was she a victim of the alleged curse of Alban? Grace quickly realizes that the dark passageways of the mansion are just as tangled with family secrets.
Grace must learn the truth about her home and its curse before she and her daughter become the next victims, with the assistance of the charming and charming Reverend Matthew Parker.
Order of Books » Authors » Order of Wendy Webb Books