Order of Austin Family Books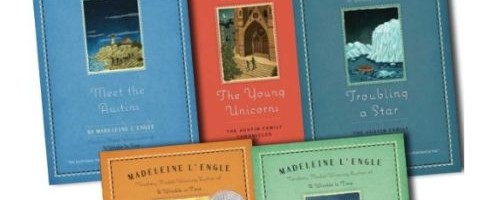 The Austin Family series is a series of young adult Christian fiction novels and children's books by American author Madeleine L'Engle. The Austin family consists of two parents, four kids, two dogs, several cats and numerous constant drop-ins.
Madeleine L'Engle began her Austin Family series in 1960 with the novel Meet the Austins. The series lasted eight books, concluding with the 1999 children's Christmas book A Full House. The series includes the Austin Family Chronicles (Meet the Austins, The Moon by Night, The Young Unicorns, A Ring of Endless Light and Troubling a Star) as well as three children's books. Completists will also want to include the short story collection Miracle on 10th Street and Other Christmas Writings, published in 1998. Below is a list of Madeleine L'Engle's Austin Family books in order of when they were first published (as well as in chronological order):
Publication Order of Austin Family Chronicles Books
Meet the Austins
(1960)
The Moon by Night
(1963)
The Twenty-Four Days Before Christmas
(1964)
The Young Unicorns
(1968)
A Ring of Endless Light
(1980)
The Anti-Muffins
(1981)
Troubling a Star
(1994)
A Full House
(2000)
When reading this series in chronological order, Troubling a Star and The Anti-Muffins are reversed.
If You Like Austin Family Books, You'll Love…
Austin Family Synopsis: In Meet the Austins by Madeleine L'Engle (the first book in the Austin Family Chronicles), the Austins are living a contnet life when a family friend perishes in a tragic plane crash. The Austins decide to open their home to an orphaned girl, Maggy Hamilton. The four children all try their best in order to welcome Maggy into their home. One of the girls, Vicky, knows she should feel sorry for Maggy, but she finds that she's full of mood swings and spoiled, screams in the middle of the night and causes chaos in the household. Will things ever go back to normal?
Shop Worldwide: Amazon.com | Amazon.co.uk | Amazon.ca
Order of Books » Characters » Order of Austin Family Books