Order of Charmed Pie Shoppe Mysteries Books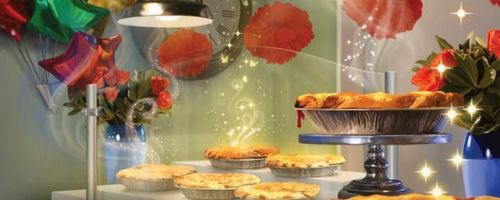 The Charmed Pie Shoppe Mysteries is a series of cozy mystery novels by American novelist Ellery Adams. Ella Mae LaFaye has a magical touch for baking pies – people literally feel magical after tasting them. When Ella Mae's marriage is ruined, she moves back home to Havenwood, Georgia where she opens up the Charmed Pie Shoppe.
Ellery Adams began her Charmed Pie Shoppe Mysteries in 2012 with the novel Pies and Prejudice. The series is currently ongoing. Below is a list of Ellery Adams' Charmed Pie Shoppe Mysteries books in order of when they were first published (which is the same as their chronological order):
Publication Order of A Charmed Pie Shoppe Mystery Books
| | | |
| --- | --- | --- |
| Pies and Prejudice | (2012) | |
| Peach Pies and Alibis | (2013) | |
| Pecan Pies and Homicides | (2014) | |
| Lemon Pies and Little White Lies | (2015) | |
| Breach of Crust | (2016) | |
If You Like Charmed Pie Shoppe Mysteries Books, You'll Love…
Charmed Pie Shoppe Mysteries Synopsis: Pies and Prejudice by Ellery Adams is the first book in the Charmed Pie Shoppe mystery series. When Ella Mae LaFaye catches her husband in the act of cheating, she packs up and moves from New York to Georgia, where she plans to do what she does best – bake pies. Her pies have magical effects on those who consume them and the people want more of them. So she decides to open up the Charmed Pie Shoppe in town. However, when her old nemesis' fiance is found killed with Ella Mae's own rolling pin, she'll need more than pies in order to take the suspicion off of her and find the true killer.
Shop Worldwide: Amazon.com | Amazon.co.uk | Amazon.ca
Order of Books » Characters » Order of Charmed Pie Shoppe Mysteries Books