Order of Darkover Books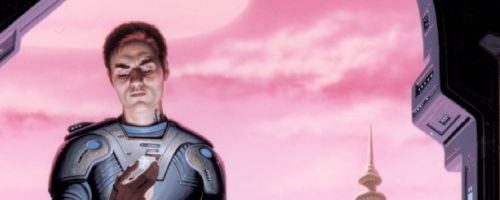 Darkover is a series of science fiction/fantasy novels by American author Marion Zimmer Bradley. Darkover is a planet that is habitable by humans – the only of the seven planets that orbit a red giant star known as Cottman that humans can inhabit. The humans that colonized the planet were mostly Celtic and Spanish. The colonists had as many children with as many partners as possible, and through mutations, the inhabitants developed psychic and psionic abilities.
The Darkover series began in 1962 with the novel The Planet Savers. Although Zimmer Bradley passed away several years ago, the series continues through other authors. She did state that she recommends that new readers first read the series in publication order, rather than in chronological order. Below is a list of both the publication order and chronological order of Marion Zimmer Bradley's Darkover books:
Publication Order of Darkover Books
Chronological Order of Darkover Books
Publication Order of Darkover Anthologies
Publication Order of Clingfire Books
(By: Deborah J. Ross, Marion Zimmer Bradley)
Publication Order of Children of Kings Books
(By: Deborah J. Ross, Marion Zimmer Bradley)
Notes: Stormqueen! was written with Paul Edwin Zimmer. Rediscovery was written with Mercedes Lackey. Hastur Lord and Thunderlord along with the Clingfire and Children of Kings series were co-authored by Deborah J. Ross. Exile's Song, The Shadow Matrix and Traitor's Sun were written alongside Adrienne Martine-Barnes. Firetrap was written with Elisabeth Waters.
If You Like Darkover Books, You'll Love…
Darkover Synopses: The Ballad of Hastur and Cassilda is a short story that was written by Marion Zimmer Bradley before the series had been completely conceived of the Darkover series.
Originally published in the anthology Four Moons of Darkover in November 1988, A Man of Impulse is an 18-page short story that involves Dyan Ardais and a meeting with his friend Merryl's twin sister, Marilla.
Snows of Darkover is a Darkover anthology edited by Marion Zimmer Bradley, which contains contributions by Mercedes Lackey, Diana Paxson and of course, MZB herself.
The Keeper's Price is an anthology that spans across Darkover history, starting with the original landfall, to the Ages of Chaso, Pact of the Comyn and the Terrans.
Shop Worldwide: Amazon.com | Amazon.co.uk | Amazon.ca
Order of Books » Characters » Order of Darkover Books
3 Responses to "Order of Darkover Books"