Order of Elfhome Books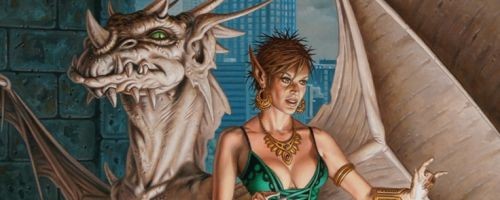 The Elfhome series is a series of fantasy novels by American author Wen Spencer. Tinker is an inventor/girl-genius who lives in a near-future Pittsburgh which now exists mostly in the land of the elves. She runs her salvage business, pays her taxes, and tries to keep the local ambient level of magic down with gadgets of her own design. When a pack of wargs chase an Elven noble into her scrap yard, life as she knows it takes a serious detour. Tinker finds herself taking on the Elven court, the NSA, the Elven Interdimensional Agency, technology smugglers and a college-minded Xenobiologist as she tries to stay focused on what's really important – her first date. Armed with an intelligence the size of a planet, steel-toed boots, and a junkyard dog attitude, Tinker is ready to kick butt to get her first kiss.
Wen Spencer began her Elfhome series in 2003 with the novel Tinker. The series is currently ongoing. Below is a list of Wen Spencer's Elfhome books in order of when they were originally published (as well as in chronological order):
Publication Order of Elfhome Books
| | | |
| --- | --- | --- |
| Tinker | (2003) | |
| Wolf Who Rules | (2006) | |
| Blue Sky | (2012) | |
| Wyvern | (2012) | |
| Elfhome | (2012) | |
| Wood Sprites | (2014) | |
| Project Elfhome | (2016) | |
| Harbinger | (2022) | |
If You Like Elfhome Books, You'll Love…
Elfhome Synopsis: Wyvern by Wen Spencer is a prequel short story set on the world of Elfhome. Kate has years of experience dealing with exotic animals becoming a problem. She's dealt with lions, tigers and bears in the most remote areas of Earth. This time, she's on Elfhome, a parallel world of elves and magic. This time, she's been hired to stop a wyvern the size of a jumbo jet. This time, she's in way over her head. Two hundred miles from the nearest human, deep in virgin forest full of magical animals, with only the elf warrior Stormsong as her native guide, Kate races to keep the crew building the new railroad from becoming a literal movable feast.
Order of Books » Characters » Order of Elfhome Books