Order of Emma Frost Books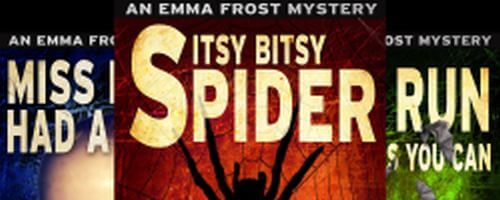 Emma Frost is a series of books by the bestselling author Willow Rose. The books follow Emma after she inherits a house from her grandmother on Fanoe Island. She decides to move their with her daughter and she soon finds that the island is wrapped up in dark secrets, secrets that she will attempt to untangle and solve the island's mysteries.
Rose is known as the "queen of scream" because of her works in the horror, supernatural, fantasy, thriller, suspense and mystery genres. She lives in Florida's Space Coast with her husband and their two children.
Publication Order of Emma Frost Books
| | | |
| --- | --- | --- |
| Itsy Bitsy Spider | (2013) | |
| Miss Polly had a Dolly | (2013) | |
| Run Run as Fast as You Can | (2013) | |
| Cross Your Heart and Hope to Die | (2014) | |
| Peek a Boo, I See You | (2014) | |
| Tweedledum and Tweedledee | (2014) | |
| Easy as One Two Three | (2014) | |
| There's No Place Like Home | (2014) | |
| Slenderman | (2014) | |
| Where the Wild Roses Grow | (2015) | |
| Waltzing Matilda | (2018) | |
| Drip Drop Dead | (2018) | |
| Black Frost | (2020) | |
If You Like Emma Frost Books, You'll Love…
The first book in the series is Itsy Bitsy Spider. This book sees Emma and her daughter moving to Fanoe Island, which her daughter is not too happy about it. There is an adjustment to be made when they first move in, but when a wealthy woman is found murdered on their street, Emma is sprung into action. The island has many dark secrets and they will be revealed in her investigation. Some of the secrets will go deep into her only family. This is not quite a cozy mystery as there are some very dark elements to the story.
Miss Polly had a Dolly is the second book in the series. This is a dark one as a little girl goes missing and Emma Frost once again decides to investigate. She finds out that this isn't the first young girl to go missing from the island as it happened before in the nineties. The only thing is: those bodies were never found. Now that it is happening again, Emma will get to the bottom of it. This is a very graphic book and not for young readers whatsoever. The thriller is a page turner that will keep you guessing.
Order of Books » Characters »