Order of Essalieyan Books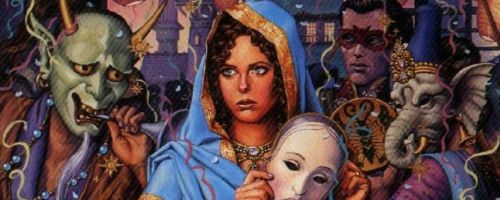 The Essalieyan universe represents multiple series of fantasy novels by Canadian author Michelle West. The series include The Sacred Hunt, The Sun Sword, The House War and several short stories. The universe is named for the Empire of Essalieyan, run by King Reymalyn and King Cormalyn (the Twin Kings). Its opposing kingdom is the Dominion of Annagar, which is located directly to the south.
Michelle West began her Essaliyan universe with her series The Sacred Hunt, which consists of Hunter's Oath and Hunter's Death, published in 1995 and 1996 respectively. The next series was The Sun Sword, which is set sixteen years after the events of The Sacred Hunt. The other series in the universe is The House War – the first three of which take place before The Sun Sword series and the rest of which take place immediately afterwards. The series is currently ongoing. Below is a list of Michelle West's Essalieyan universe books in order of when they were originally published (as well as in chronological order):
Publication Order of Sacred Hunt Books
Publication Order of Sun Sword Books
Publication Order of House War Books
Publication Order of Essalieyan Chronicles Short Stories
Chronological Order of Essalieyan Universe Books
As with the publication order, The Sacred Sword series should be read first. However, the authors recommends that readers make sure to read The Sun Sword series before the fourth novel of The House War series.
If You Like Essalieyan Books, You'll Love…
Essalieyan Universe Synopsis: The short story Echoes by Michelle West tells the story of Kallandras' youth in the labyrinths of the Brotherhood of Assassins.
Shop Worldwide: Amazon.com | Amazon.co.uk | Amazon.ca
Order of Books » Characters » Order of Essalieyan Books