Order of Farmers' Market Mysteries Books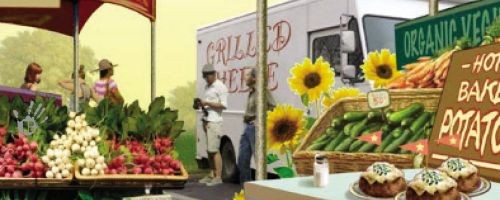 The Farmers' Market Mysteries series is a series of cozy mystery novels by American novelist Paige Shelton. Set in rural South Carolina, the series follows Becca Robins, who makes jam on her farm to sell at her twin sister's farmers' market. But when a fellow vendor is found dead at the market, Becca decides she must find answers to prove the innocence of someone she respects.
Paige Shelton began her Farmers' Market Mysteries series in 2010 with the novel Farm Fresh Murder. The series is currently ongoing. Below is a list of Paige Shelton's Farmers' Market Mysteries books in order of when they were first published (which is the same as their chronological order):
Publication Order of Farmers' Market Mysteries Books
| | | |
| --- | --- | --- |
| Farm Fresh Murder | (2010) | |
| Fruit of All Evil | (2011) | |
| Crops and Robbers | (2011) | |
| A Killer Maize | (2012) | |
| Red Hot Deadly Peppers | (2012) | |
| Merry Market Murder | (2013) | |
| Bushel Full of Murder / Wound Up in Murder | (2015) | |
If You Like Farmers' Market Mysteries Books, You'll Love…
Farmers' Market Mystery Synopsis: Farm Fresh Murder by Paige Shelton is the first book in the Farmers' Market Mystery series. Becca Robbins leads a simple life making jams and preserves on her very own farm. Late for her stall time at Bailey's Farmers' Market, she arrives to find that the market is now a crime scene, with a murdered peach vendor as the featured item of the day. Old man Abner Justen, who sells wildflowers and is like a father to Becca, is the prime suspect. As Becca seeks the truth, she realizes that life in the friendly market is filled with bushels of secrets.
Order of Books » Characters »