Order of Cookbook Nook Mysteries Books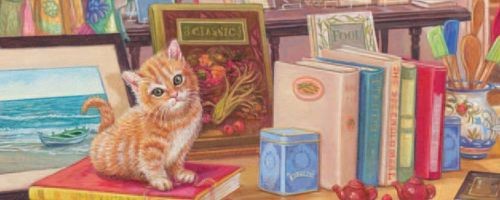 The Cookbook Nook Mysteries series is a series of cozy mystery novels by American novelist Daryl Wood Gerber (Avery Aames). The series follows protagonist Jenna Hart, who runs a cookbook store in California. Jenna is an avid reader and a foodie, but soon, she may have to add "amateur sleuth" to her list of titles.
Daryl Wood Gerber began her Cookbook Nook Mysteries series in 2013 with the novel Final Sentence. The series is currently ongoing. Below is a list of Daryl Wood Gerber's Cookbook Nook Mysteries books in order of when they were originally published (which is also their chronological order):
Publication Order of Cookbook Nook Mysteries Books
| | | |
| --- | --- | --- |
| Final Sentence | (2013) | |
| Inherit the Word | (2014) | |
| Stirring the Plot | (2014) | |
| Fudging the Books | (2015) | |
| Grilling the Subject | (2016) | |
| Pressing the Issue | (2018) | |
| Wreath Between the Lines | (2018) | |
| Sifting Through Clues | (2019) | |
| Shredding the Evidence | (2020) | |
| Wining and Dying | (2021) | |
| Simmering with Resentment | (2022) | |
If You Like Cookbook Nook Mysteries Books, You'll Love…
Cookbook Nook Mysteries Synopsis: Final Sentence by Daryl Wood Gerber is the first book in the Cookbook Nook Mysteries series. Looking for a change of pace, Jenna Hart exits the high-pressure world of advertising to help her aunt, Vera, open up a culinary bookshop and cafe. Back with her family in Crystal Cove, California, Jenna seems to have everything she needs for a fresh start – until someone adds a dash of murder. As a marketing expert, Jenna wants to make sure the grand opening of the Cookbook Nook draws a crowd, and no one is better at getting attention than her old college roommate, celebrity chef Desiree Divine. But when Desiree arrives in quiet Crystal Cove to do a cookbook signing, the diva stirs up more trouble than business… especially when she is found dead. Known for stealing husbands and burning bridges, Desiree left behind plenty of suspects – including Jenna. While the celebrity's life always appeared to be an open book, Jenna will have to read between the lines in order to clear her name, and catch a killer before someone else is knocked off.
Order of Books » Characters » Order of Cookbook Nook Mysteries Books