Order of Orchard Mysteries Books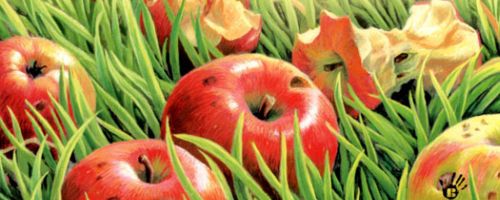 The Orchard Mysteries is a series of cozy mystery novels by American novelist Sheila Connolly. The series is set in Granford, Massachusetts in the western part of the state. The main character is Meg Corey. Out of a job after being downsized, Meg inherits her mother's estate, which includes an old colonial home and to Meg's surprise, an apple orchard. Due to the market being so bad, she realizes she can't sell the house, so she decides to stay and look after the orchard in order to save it from developers.
Sheila Connolly began her Orchard Mysteries series in 2008 with One Bad Apple. The series is currently ongoing, at a pace of about 1-2 novels per year along with a prequel novella, Called Home. Below is a list of Sheila Connolly's Orchard Mysteries books in order of when they were first released (as well as in chronological order):
Publication Order of Orchard Mysteries Books
| | | |
| --- | --- | --- |
| One Bad Apple | (2008) | |
| Rotten to the Core | (2009) | |
| Red Delicious Death | (2010) | |
| A Killer Crop | (2010) | |
| Bitter Harvest | (2011) | |
| Sour Apples | (2012) | |
| Golden Malicious | (2013) | |
| Picked to Die | (2014) | |
| A Gala Event | (2015) | |
| Seeds of Deception | (2016) | |
| A Late Frost | (2017) | |
| Nipped in the Bud | (2018) | |
Publication Order of Orchard Mysteries Short Stories/Novellas
If You Like Orchard Mysteries Books, You'll Love…
Orchard Mysteries Synopses: In the first Orchard Mystery, One Bad Apple, Bostonian Meg Corey has come to Granford, Massachusetts to sell her mom's property, which includes a colonial house and an apple orchard. However, once she gets there, she becomes interested in the orchard and meets up with a former boyfriend from Boston. But when the old flame turns up dead on Meg's property, she becomes the main suspect. With only one ally in town, Seth Chapin, they work together to try and find out who the real killer is.
Rotten to the Core is the second in Sheila Connolly's Orchard Mysteries series. Now, a body has been found in Meg Corey's very own springhouse. She must once again clear her name. The novel comes complete with recipes.
Called Home is a prequel novella to Sheila's Orchard Mysteries series. Down on her luck and living in her mother's old colonial house, Meg is sick with the flu instead of fixing up the old house in order to sell it off. She is soon distracted by an apparition of the late Deborah Warren, but is Deborah a ghost or just in Meg's head?
Shop Worldwide: Amazon.com | Amazon.co.uk | Amazon.ca
Order of Books » Characters » Order of Orchard Mysteries Books