Order of Knights Templar Mysteries Books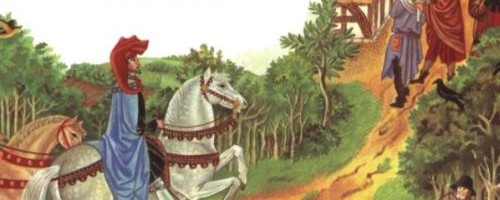 The Knights Templar series is a series of historical mystery novels by British author Michael Jecks. The series follows Sir Baldwin Furnshill, who was at one time a Knight Templar, along with his friend Simon Puttock, Bailiff of Lydford Castle. The books are set during the 14th century in Devon, England. The series is also referred to as the Medieval West Country Mysteries.
Michael Jecks began his Knights Templar series in 1995 with the novel The Last Templar. The series is currently ongoing, having lasted over 30 novels. The novels started out coming out at a pace of two per year, but since 2010 have slowed down to one book per year. Below is a list of Michael Jecks' Knights Templar books in order of when they were first released (as well as notes on their chronological order):
Publication Order of Knights Templar Mysteries Books
The Last Templar
(1995)
The Merchant's Partner
(1995)
A Moorland Hanging
(1996)
The Crediton Killings
(1998)
The Abbot's Gibbet
(1998)
The Leper's Return
(1999)
Squire Throwleigh's Heir
(1999)
Belladonna at Belstone
(1999)
The Traitor of St. Giles
(2000)
The Boy-Bishop's Glovemaker
(2000)
The Tournament of Blood
(2001)
The Sticklepath Strangler
(2001)
The Devil's Acolyte
(2002)
The Mad Monk of Gidleigh
(2002)
The Templar's Penance
(2003)
The Outlaws of Ennor
(2003)
The Tolls of Death
(2004)
The Chapel of Bones
(2004)
The Butcher of St Peter's
(2005)
A Friar's Bloodfeud
(2005)
The Death Ship of Dartmouth
(2006)
The Malice of Unnatural Death
(2007)
Dispensation of Death
(2007)
The Templar, the Queen and Her Lover
(2008)
The Prophecy of Death
(2008)
The King of Thieves
(2008)
No Law in the Land
(2009)
The Bishop Must Die
(2010)
The Oath
(2010)
King's Gold
(2011)
City of Fiends
(2012)
Templar's Acre
(2013)

Chronological Order of Knights Templar Mysteries Books

Templar's Acre is a prequel to the Knights Templar Mysteries series.
If You Like Knights Templar Books, You'll Love…
Knights Templar Mysteries Synopsis: In The Last Templar by Michael Jecks (book 1 of the Knights Templar series), after a series of village burnings, Bailiff Simon Puttock receives the assistance of Sir Baldwin Furnshill, who is new to the area. Are these crimes connected and will the murderer keep killing?
Shop Worldwide: Amazon.com | Amazon.co.uk | Amazon.ca
Order of Books » Characters » Order of Knights Templar Mysteries Books