Order of Matchmaker Mysteries Books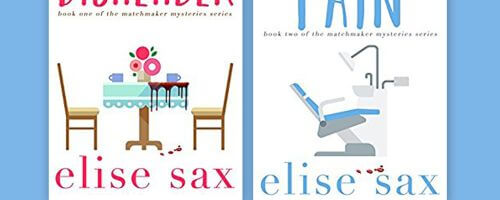 The Matchmaker Mysteries series is a series of cozy mystery novels by American novelist Elise Sax. The series follows Gladie Burger, who has joined her family's matchmaking business. She's already skeptical of it to begin with, but when murder goes down, she finds herself in the middle of an investigation. The series is set in a small California town.
Elise Sax began her Matchmaker Mysteries series in 2012 with the novel An Affair to Dismember, which is also the author's debut novel. The series is currently ongoing. Below is a list of Elise Sax's Matchmaker Mysteries books in order of when they were originally published (as well as in chronological order):
Publication Order of Matchmaker Mystery Books
| | | |
| --- | --- | --- |
| An Affair to Dismember | (2013) | |
| Matchpoint aka Citizen Pain | (2013) | |
| Love Game aka The Wizard of Saws | (2014) | |
| Playing the Field aka Field of Screams | (2015) | |
| From Fear to Eternity | (2017) | |
| West Side Gory | (2017) | |
| Scareplane | (2017) | |
| Road to Matchmaker | (2017) | |
| It Happened One Fright | (2017) | |
| The Big Kill | (2018) | |
| It's a Wonderful Knife | (2018) | |
| Ship of Ghouls | (2018) | |
Publication Order of Matchmaker Mysteries Collections
Publication Order of Matchmaker Marriage Mystery Books
If You Like Matchmaker Mysteries Books, You'll Love…
Matchmaker Mysteries Synopsis: An Affair to Dismember is the first book in the Matchmaker Mysteries series by Elise Sax. Three months has been Gladie Burger's limit when it comes to staying in one place. That's why Gladie is more than a little unsure when her Grandma Zelda – who is more than a little psychic – recruits her into the family's matchmaking business in the quaint small town of Cannes, California. What's more, Gladie is also highly unqualified from a personal point of view, having a terrible track record with romance. Still, Zelda is convinced that her granddaughter has inherited her clairvoyant "gift." But when the going gets tough, Gladie wonders if this gift has a return policy. When Zelda's neighbor drops dead in his kitchen, Gladie is swept into his bizarre family's drama. Despite warnings from the (distractingly handsome) chief of police to steer clear of his investigation, Gladie is out to prove that her neighbor's death was murder. It's not too long before she's in way over her head – with the hunky police chief, a dysfunctional family full of possible killers, and yet another mysterious and handsome man, whose attentions she's unable to ignore. Gladie is clearly being pursued – either by true love or by a murderer. Who will catch her first?
Order of Books » Characters » Order of Matchmaker Mysteries Books