Order of Mediator Books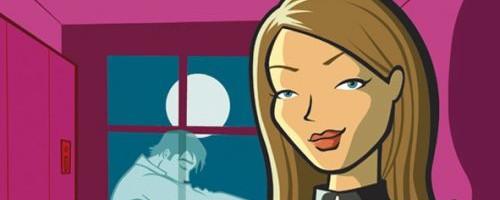 The Mediator is a series of YA paranormal novels by American novelist Meg Cabot (originally as Jenny Carroll). The main character of the series if 16 year-old girl Suze Simon, a mediator. She is able to assist ghosts tie up loose ends in order to move on. She has the ability to see, touch, communicate with and defend herself (when need be) against ghosts. The film/television rights have been optioned by producer Julia Pistor.
Meg Cabot began her Mediator series in October 2000 with the novel Shadowland (aka Love You to Death), originally written under the pseudonym of Jenny Carroll. Originally planned as an eight-book series, the series only lasted six due to poor sales. The final novel in the series was known as Twilight in the US and Heaven Sent in the UK. Over ten years later, Meg added onto the series with Remembrance. Below is a list of Meg Cabot's Mediator books in order of when they were first published (which is also their chronological order):
Publication Order of Mediator Books
| | | |
| --- | --- | --- |
| Shadowland | (2000) | |
| Ninth Key | (2001) | |
| Reunion / Mean Spirits | (2001) | |
| Reunion | (2001) | |
| Darkest Hour / Young Blood | (2001) | |
| Darkest Hour | (2001) | |
| Haunted / Grave Doubts | (2003) | |
| Twilight / Heaven Sent | (2005) | |
| The Proposal | (2016) | |
| Remembrance | (2016) | |
Notes: The first four Mediator novels (up to Darkest Hour) were originally written as Jenny Carroll. Shadowland is also known as Love You to Death. Ninth Key was also published as High Stakes. Reunion is also titled Mean Spirits. Darkest Hour was also published as Young Blood. Haunted is also known as Grave Doubts. Twilight is also titled Heaven Sent.
If You Like Mediator Books, You'll Love…
Mediator Synopsis: In Shadowland, the first Mediator book by Meg Cabot, Suze can see dead people and they won't leave her alone. She is trying to enjoy her new life in California and would rather be going to the mall or surfing, not visiting graveyards. But when she starts at her new school, she encounters a ghost with a score to settle, and Suze is in the way.
Shop Worldwide: Amazon.com | Amazon.co.uk | Amazon.ca
Order of Books » Characters » Order of Mediator Books