Order of Morganville Vampires Books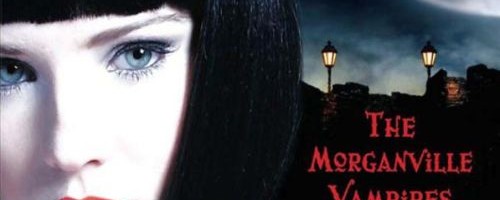 The Morganville Vampires is a series of YA urban fantasy novels by American author Rachel Caine. The main character is a student named Claire Danvers, who discovers that the town of Morganville, Texas is run with the co-operation of vampires. Claire is exceptionally intelligent, and therefore is highly sought after by the vampires.
Rachel Caine began her Morganville Vampires series in October 2006 with the novel Glass Houses. Two novels have been published most years since. The series is currently ongoing. Below is a list of Rachel Caine's Morganville Vampires books in order of when they were originally released:
Publication Order of Morganville Vampires Books
Glass Houses
(2006)
The Dead Girls' Dance
(2007)
First Day of the Rest of Your Life (in Many Bloody Returns)
(2007)
Midnight Alley
(2007)
Feast of Fools
(2008)
Lord of Misrule
(2008)
Carpe Corpus
(2009)
Fade Out
(2009)
Kiss of Death
(2010)
Ghost Town
(2010)
Bite Club
(2011)
Last Breath
(2011)
Black Dawn
(2012)
Bitter Blood
(2012)
Fall of Night
(2013)
Daylighters
(2013)
First Day of the Rest of Your Life is a prequel short story to the Morganville Vampires series and is found in the anthology Many Bloody Returns, edited by Charlaine Harris and Toni L.P. Kelner.
Publication Order of Morganville Vampires Collections
If You Like Morganville Vampires Books, You'll Love…
Morganville Vampires Synopses: Glass Houses is the first Morganville Vampires novel from Rachel Caine. Claire Danvers is sick of her dorm, where the popular girls consider her to be as unimportant as they come, and won't let her forget it. She leaves for another room, where her roommates don't have many signs of life, but they'll have Claire's back when the town's secrets are revealed.
In The Dead Girls' Dance (book 2 of the series), Claire is a genius in a school that seems to grade beauty, lives with homicidal girls and she lives in a town alongside living dead. On the bright side, her new boyfriend's dad is a vampire hunter. Hell breaks loose when the frat throws a Dead Girls' Dance.
In book 3 of the series, titled Midnight Alley, Morganville may be run by vampires, but a truce has been made between the living and dead. Briefly, at least. Soon, people start turning up dead, Claire is being stalked and an ancient vampire wants to be her mentor.
Shop Worldwide: Amazon.com | Amazon.co.uk | Amazon.ca
Order of Books » Characters »