Order of Otherworld Books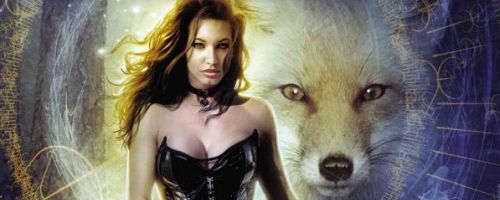 Otherworld (also known as the Sisters of the Moon) is a series of urban fantasy novels by American author Yasmine Galenorn. The series follows the three D'Artigo Sisters, who are half-human and half-Fae. The sisters are member of the Otherworld Intelligence Agency (OIA). Camille is a witch, Delilah is a werecat and Menolly is an acrobat-turned-vampire. The three sisters are sent away to Earth from the Otherworld to keep them out of trouble, as their superiors just consider them to be a trio of useless half-breeds.
Yasmine Galenorn started the Otherworld series in 2006 with the novel Witchling. The series is currently ongoing, at a rate of two novels per year (plus short stories). Below is a list of Yasmine Galenorn's Otherworld books in order of when they were originally published (as well as in chronological order):
Publication Order of Otherworld Books
Witchling
(2006)
Changeling
(2007)
Darkling
(2008)
Dragon Wytch
(2008)
Night Huntress
(2009)
Demon Mistress
(2009)
Bone Magic
(2009)
Harvest Hunting
(2010)
Blood Wyne
(2010)
Courting Darkness
(2011)
Shaded Vision
(2012)
Shadow Rising
(2012)
Haunted Moon
(2013)
Autumn Whispers
(2013)
Crimson Veil
(2014)
Priestess Dreaming
(2014)
Panther Prowling
(2015)
Darkness Raging
(2016)
Moon Shimmers
(2017)
Harvest Song
(2018)
Blood Bonds
(2019)
Chronologically, The short story The Shadow of Mist goes after Bone Magic and before Harvest Hunting. Etched in Silver is set between the novels Blood Wyne and Courting Darkness.
Publication Order of Otherworld Short Stories/Novellas
If You Like Otherworld Books, You'll Love…
Otherworld Synopses: Etched in Silver is a novella by Yasmine Galenorn in her Otherworld series. The novella is set after the novel Blood Wyne and before Courting Darkness. Camille D'Artigo is a wicked-good witch who is trying to find a serial killer when an unexpected ally comes to her aid. What follows is a magical ritual that may bind their body and souls together.
In the short story Ice Shards, Iris Kussi has fallen in love… and she has a secret. She must now travel to the frozen Northlands in order to confront an ex-lover that still haunts her. She will also discover if she's responsible for the crime which caused her to be kicked out. The short story includes a preview of the next Otherworld novel, Haunted Moon. The story originally appeared in the collection Hexed.
Shop Worldwide: Amazon.com | Amazon.co.uk | Amazon.ca
Order of Books » Characters » Order of Otherworld Books