Order of Pennyroyal Green Books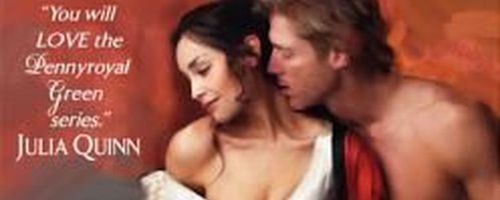 Pennyroyal Green is a series of historical romance novels by American novelist Julie Anne Long. The series follows the residents of Pennyroyal Green in Sussex, England, and explores their lives, passions and adventures. The town of Pennyroyal Green is home to two anchor families – the Everseas and the Redmonds. On the surface, the two families are civil, but deep down, their relationships are full of secrets, grudges, and attractions.
Julie Anne Long began her Pennyroyal Green series in 2008 with the novel The Perils of Pleasure. The series has also been spun off into a contemporary series called Pennyroyal Today. Below is a list of Julie Anne Long's Pennyroyal Green books in order of when they were first published (which is the same as their chronological order):
Publication Order of Pennyroyal Green Books
| | | |
| --- | --- | --- |
| The Perils of Pleasure | (2008) | |
| Like No Other Lover | (2008) | |
| Since the Surrender | (2009) | |
| I Kissed an Earl | (2010) | |
| What I Did For a Duke | (2011) | |
| How the Marquess Was Won | (2011) | |
| A Notorious Countess Confesses | (2012) | |
| It Happened One Midnight | (2013) | |
| Between the Devil and Ian Eversea | (2014) | |
| It Started With a Scandal | (2015) | |
| The Legend of Lyon Redmond | (2015) | |
If You Like Pennyroyal Green Books, You'll Love…
Pennyroyal Green Synopsis: The Perils of Pleasure by Julie Anne Long is the first book in the Pennyroyal Green series. London has been rocked by scandal. Handsome, yet reckless rogue Colin Eversea is sentenced to death for murder and, inconveniently for him, the only witness to the crime is nowhere to be found. Then again, throughout history, the Everseas have always managed to cheat fate in style: Colin is snatched from the gallows by a beautiful, clever mercenary. Calm, collected, and daring Madeleine Greenway is immune to Colin's vaunted charm. Her mission is not to rescue Colin but to kidnap him, and to be paid handsomely for it. But when it becomes clear that whoever wants Colin alive wants Madeline dead, the two become uneasy allies in a deadly race for truth. Together, they'll face great danger – and a passion neither can resist.
Order of Books » Characters »
One Response to "Order of Pennyroyal Green Books"