Order of Philip St. Ives Books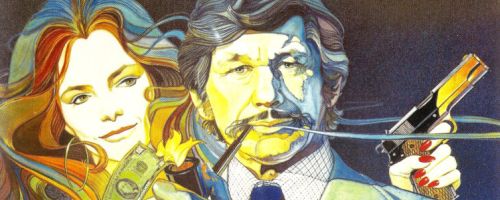 Philip St. Ives is the protagonist in a series of hardboiled crime fiction/mystery novels by American novelist Ross Thomas (originally as Oliver Bleeck). Philip St. Ives is a private investigator, but unlike many hardboiled detectives, he doesn't work out of a crappy office, drink cheap liquor or work in a horrible, corrupt city. Instead, he travels the world taking cases in the United States, Europe and wherever else someone needs him. The novel The Procane Chronicle was adapted into the film St. Ives, starring Charles Bronson as "Raymond St. Ives."
Ross Thomas began his Philip St. Ives series in 1969 with the novel The Brass Go-Between. The series lasted five novels, concluding with No Questions Asked in 1976. Below is a list of Ross Thomas' Philip St. Ives books in order of when they were first released (which is the same as their chronological order):
Publication Order of Philip St. Ives Books
| | | |
| --- | --- | --- |
| The Brass Go-Between | (1969) | |
| The Procane Chronicle | (1971) | |
| Protocol for a Kidnapping | (1971) | |
| The Highbinders | (1974) | |
| No Questions Asked | (1976) | |
Notes: All of the novels were written under the pen name of Oliver Bleeck, but later re-released as by Ross Thomas. The Procane Chronicle was also published as The Thief Who Painted Sunlight.
If You Like Philip St. Ives Books, You'll Love…
Philip St. Ives Synopses: In The Brass Go-Between by Olvier Bleeck (book 1 of the series), Philip St. Ives has been asked to be the go-between and hand over $250,000 to a thief of an African shield that had been stolen from a museum in Washington. But soon, he finds himself in the middle of a very dangerous game.
In No Questions Asked by Ross Thomas (book 5 of the series), a pair of book thieves manage to lose St. Ives in a tail operation, so St. Ives heads to Miami to pay a visit to the book's owner, who happens to be a wealthy woman who isn't looking to go easy on the criminals.
Shop Worldwide: Amazon.com | Amazon.co.uk | Amazon.ca
Order of Books » Characters » Order of Philip St. Ives Books