Order of Renaissance Faire Mysteries Books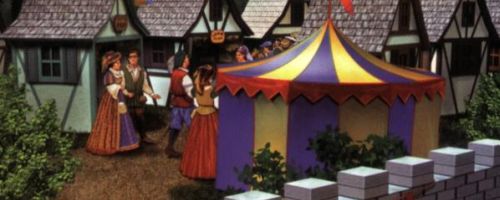 The Renaissance Faire Mysteries is a series of cozy mystery novels by Joyce and Jim Lavene. The series follows Jessie Morton, a craft apprentice turned amateur sleuth. The books include Renaissance-themed recipes as well as fun facts about the time period.
Joyce and Jim Lavene began their Renaissance Faire Mysteries series in 2008 with the novel Wicked Weaves. The series is currently ongoing. Below is a list of Joyce and Jim Lavene's books in order of when they were originally published (which is the same as their chronological order):
Publication Order of A Renaissance Faire Mystery Books
| | | |
| --- | --- | --- |
| Wicked Weaves | (2008) | |
| Ghastly Glass | (2009) | |
| Deadly Daggers | (2010) | |
| Harrowing Hats | (2011) | |
| Treacherous Toys | (2012) | |
| Perilous Pranks | (2013) | |
| Murderous Matrimony | (2013) | |
| Bewitching Boots | (2014) | |
| Fatal Fairies | (2015) | |
If You Like Renaissance Faire Mysteries Books, You'll Love…
Renaissance Faire Mysteries Synopsis: In Wicked Weaves by Joyce and Jim Lavene (book 1 of the series), Jessie Morton is an assistant professor who spends her off-time in the summer at the Renaissance Village in order to hone her skills. She's working as an apprentice to the basket-maker, Mary Shift, who has a dark past and is an expert weaver. But one day, a man is found with her trademark weave around his neck. Now it's up to Jessie to get Mary out of the police station, but it's difficult to prove innocence in a place where the line between reality and theatre is very thin.
Shop Worldwide: Amazon.com | Amazon.co.uk | Amazon.ca
Order of Books » Characters » Order of Renaissance Faire Mysteries Books