Order of Uplift Books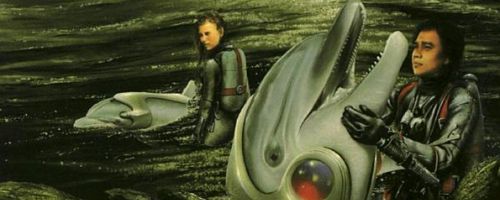 Uplift is a series of hard science fiction novels by American author David Brin. In the Uplift universe, civilization is made up of many different sentient races. An "uplift" is when a species genetically modifies a species that is pre-sapient so that it becomes sapient. The only species that was not uplifted was humanity – or so it is believed.
David Brin began his Uplift series in 1980 with the novel Sundiver. The series is currently ongoing. The novels Brightness Reef, Infinity's Shore and Heaven's Reach are considered the "Uplift Storm Trilogy." Below is a list of David Brin's Uplift books in order of when they were originally published (which is the same as their chronological order):
Publication Order of Uplift Saga Books
Sundiver
(1980)
Startide Rising
(1983)
The Uplift War
(1987)
Brightness Reef
(1995)
Infinity's Shore
(1996)
Heaven's Reach
(1998)
Gorilla, My Dreams
(2011)
A story from this is in the anthology The Space Opera Renaissance
Publication Order of Uplift Non-Fiction Books
If You Like Uplift Books, You'll Love…
Uplift Synopsis: Sundiver is the first novel in the Uplift series by Dr. David Brin. A species will always use the guidance of another when they reach for the stars, except for mankind. Was there a species that began the uplift of the human race thousands of years ago? In order to find out, Expedition Sundiver is headed past Mercury, all the way to the sun.
Shop Worldwide: Amazon.com | Amazon.co.uk | Amazon.ca
Order of Books » Characters »