Order of Elizabeth Bear Books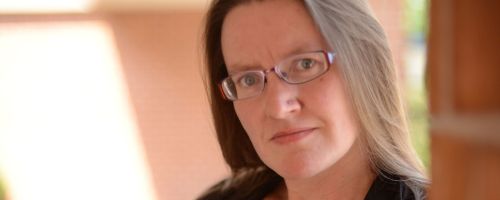 Elizabeth Bear is an American author and the creator of many popular books including the Jenny Casey trilogy. She is the 2005 John W. Campbell award winner for Best New Writer and has also won the Hugo Award for Shorty Story, and Novelette. She is in exclusive company having won those awards as only four other authors have done it.
Bear lives in Hartford, Connecticut with her husband, author Scott Lynch. In addition to her work as a writer, she is also an instructor at the Viable Paradise writer's workshop. She is also a regular panelist on the SF Squeecast podcast.
Publication Order of Jenny Casey Books
Publication Order of Promethean Age Books
Publication Order of New Amsterdam Books
Publication Order of Jacob's Ladder Books
Publication Order of Iskryne World Books
Publication Order of The Edda of Burdens Books
Publication Order of Eternal Sky Books
Publication Order of Karen Memory Books
Publication Order of Lotus Kingdoms Books
Publication Order of Ancestral Night Books
Publication Order of Sub-Inspector Ferron Books
Publication Order of Bone and Jewel Creatures Books
Publication Order of Standalone Novels
Publication Order of Short Stories/Novellas
If You Like Elizabeth Bear Books, You'll Love…
Hammered is the first book in the Jenny Casey series. This book is set in the future, the year 2062 on the hellish streets of Hartford, Connecticut. She is on the run from her government as she is a former Canadian special forces warrior. She has an artificially rebuilt body and while she would like to forget her past, her past isn't forgetting about her. A scientist wants her for an experiment and she finds herself caught as a pawn in a deadly game that spans the internet, battered cities, and within her own nervous system.
Another popular series by Bear is the Jacob's Ladder series and the first book in that one is called Dust. A broken space ship is stuck orbiting a dying sun and the inhabitants of the ship are getting restless. Things are as they've always been until a young serving girl frees a captive older noblewoman and unearths change. The serving girl and the captive will have to work together to stop a war and save their respective houses. The journey will lead them to Jacob Dust, the last remnant of God.
Order of Books » Authors » Order of Elizabeth Bear Books